U.S. Polo Assn. Eclipses Milestone of 1,000 Retail Stores and Continues Global Expansion While Delivering Record 2018
Press Release
-
updated: Oct 25, 2018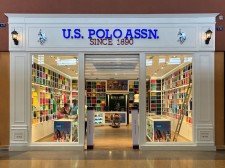 WEST PALM BEACH, Fla., October 25, 2018 (Newswire.com) - USPA Global Licensing Inc. (USPAGL), the official licensing arm and national broadcaster of the United States Polo Association (USPA), announced that U.S. Polo Assn. has surpassed a major milestone by opening approximately 1,050 monobrand retail stores globally. Additionally, the $1.6B sport-inspired global lifestyle brand shared that U.S. Polo Assn. has continued its aggressive international expansion efforts and is now represented in 166 countries worldwide while delivering strong double-digit growth in 2018.
The growth in stores is happening across all regions of the world and includes recent new store openings in high-profile areas such as Boston's iconic Faneuil Hall, Mall of the Emirates in Dubai, Tocuman International Airport in Panama City, Xianyang Kaihuang Plaza in China and 1000 Foot Road in Bangalore, India. U.S. Polo Assn. will add roughly 100 retail stores in 2018, alone, and has an aggressive target of exceeding 1,300 stores globally over the next several years. Key regions such as India, China, Turkey, Middle East and Eastern Europe will drive a significant portion of this growth while more mature markets such as North America, Western Europe and Latin America will continue to add doors as well. Furthermore, approximately 90 percent of U.S. Polo Assn.'s global retail stores represent in-line doors while only 10 percent are in outlet locations, representing a much lower percentage of outlets when compared to other multi-billion-dollar brands.
"While many brands have been closing stores, or even going out of business, U.S. Polo Assn. has been on an aggressive expansion effort as we believe the greatest consumer experience still lies within the retail store environment," commented J.Michael Prince, President & CEO of USPAGL. "We are also proud of our international expansion efforts and our global momentum as 2018 is going to be a record financial year." 
As the official brand of the USPA, U.S. Polo Assn. epitomizes classic, American style via an authentic connection to the sport of polo. The U.S. Polo Assn. stores offer a broad assortment of seasonal collections for men, women and kids ranging from the classic polo shirt to specialized denim to footwear, bags and accessories. In 2019, U.S. Polo Assn. will also launch a new "high energy" store concept in several regions that will showcase amazing products while engaging consumers in the sport of polo in a new and more meaningful way. The new concept's inspiration comes from U.S. Polo Assn.'s Times Square store in New York City, considered its most high-profile location globally. Prince mentioned, "We are extremely excited about our new 'high-energy' store concept, which will be a crossroads where fashion and sport collide, while also enhancing the overall consumer experience through technology and social engagement. We believe this new concept has the potential to be transformational."
David Cummings, Chairman of USPAGL stated, "It is most gratifying to see our vision in retail store expansion come to fruition. In 2006, we presented our first retail store model at our global licensing summit, stating that our future was in retail and that brick and mortar wasn't dead. Now a decade and 1,000 stores later our strategy was correct."
###
About U.S. Polo Assn. and USPA Global Licensing Inc.
U.S. Polo Assn. is the official brand of the United States Polo Association (USPA), the nonprofit governing body for the sport of polo in the United States founded in 1890, making it one of the oldest sports governing bodies. With a global footprint of $1.6B and worldwide distribution through 1,050 U.S. Polo Assn. stores, department stores, independent retailers and e-commerce, U.S. Polo Assn. offers apparel for men, women and children, as well as accessories, footwear, travel and home goods in 166 countries worldwide.
USPA Global Licensing Inc. (USPAGL) is the for-profit subsidiary of the USPA and the exclusive worldwide licensor for the USPA's global licensing program. USPAGL is the steward of the USPA's intellectual properties, providing the sport with a long-term source of revenue. Additionally, USPAGL also produces global broadcasts to bring the sport of polo to millions of consumers and sports fans around the world.
For media and general inquiries, please contact:
Shannon Stilson, Senior Director of Marketing – USPAGL
sstilson@uspagl.com, 561.227.6994
Christina Cassera/Lindsay London – Tractenberg & Co. PR
ccassera@tractenberg.com / llondon@tractenberg.com, 212.929.7979
Visit our website at www.uspolo.org
#USPOLOASSN
#LIVEAUTHENTICALLY
Source: USPA Global Licensing Inc.
Share:
---
Categories: Fashion and Apparel, Fashion and Apparel Industry, Retail
Tags: Polo club, Polo game, Polo shirts, Polo sport, Polo t shirts, US Polo, US Polo Assn, US Polo Assn clothing, US polo assn shoes
---