U-GLOVE's Marketing Method Patent Allowed by USPTO
Press Release
•
updated: Jul 25, 2017
U-GLOVE's Outdoor Media allows for brands to engage their audience when they're most receptive, while they pump their fuel safe and clean.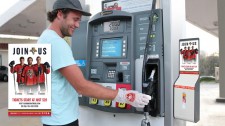 MIAMI, Fla., July 25, 2017 (Newswire.com) - ​​The United States Patent and Trademark Office has granted a utility patent for U-GLOVE media as marketing method. Antonio Lyon, CEO and founder of the Broward-based U-GLOVE, Inc., calls it "Advertising as a Service." U-GLOVE's Patent consists of free, ads-printed consumer protective gloves, packed in technology-enabled glove boxes (also patented) that deliver advertisements at every gas pump in both print and mobile format. The U-GLOVE Media network currently extends through Florida's key markets, and includes hundreds of stations throughout the U.S., Canada and the Caribbean.
"This is a big milestone for us as we consider further expansion opportunities into this market made up of roughly 130,000 gas stations," says Lyon. "This is a win-win for consumers, brands, and fuel retailers alike. U-GLOVE is about protecting consumers by partnering up with retailers and brands that place a high value on goodwill marketing."
Studies noted in Infection Control Today have found that 71 percent of gas pump handles show high concentrations of various communicable contagions. As a result, something as simple as stopping for gas is one of the biggest contributors in the $20 billion lost each year from people missing work because of the common cold and other medical conditions. Aside from germs, using U-GLOVE allows consumers to avoid odors, oil, and dirt often found on unsanitary pumps.
Consumer demand for protective disposable gloves at the gas pump has steadily grown since the concept was first introduced in Miami, Florida, in 2014. Since then, an increasing number of fuel retailers have adopted this customer-centric solution. The U-GLOVE marketing system has also proven successful, with reputable advertisers like American Express, MetroPCS, the NHL Florida Panthers, and Baptist Health of South Florida, among others, launching various advertising campaigns on the platform.
U-GLOVE has been featured in major news outlets for its innovative approach to such public-health challenge. Gasoline stations will serve as U-GLOVE's immediate starting point, with expansion to diverse consumer outlets to follow. U-GLOVE's current footprint anticipates presence in thousands of filling stations by 2018.
For more information about the company, visit U-GLOVE.com.
About U-GLOVE, Inc.
U-GLOVE, Inc. has successfully launched and now received a patent for their U-GLOVE, which acts as both an advertising channel for companies and as a barrier to allow consumers to avoid germs, odors, oil, and dirt often found on unsanitary gas pumps. For more information, visit U-GLOVE.com.
Media Contact:
Liliana Arellano​
Phone: (954) 357-6800 Ext. 106
​Email: lily@u-glove.com
Source: U-GLOVE, Inc.
Related Media
Tags
Additional Links