Two More Historic Ships Added to Tall Ships Erie Festival Lineup
Appledore IV and Appledore V Will Join Tall Ships Erie Festival
Press Release
-
updated: May 9, 2019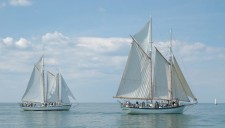 ERIE, Pa., May 9, 2019 (Newswire.com) - Appledore IV and Appledore V will join the Tall Ships Erie 2019 festival, occurring Aug. 22-25, 2019.
Appledore IV and V are two of five ships in the series of schooners known as Appledores. The ships were originally commissioned by Herb and Doris Smith for family globetrotting adventures. The name Appledore comes from the island, Appledore Island, Maine, where Herb first met his wife. The couple has explored exotic locations from the Caribbean to Pitcairn Island with the ships and has chronicled their adventures in two books. They have since exchanged their sea legs for a dairy farm, and their ships sail on as educational vessels for youth.
Appledore IV was built in 1989. This 85-foot-long ship shares the design of many classic charters and freight ships and can carry as many as 52 passengers and crew members. The Appledore V is 65 feet long. Both two-masted schooners house a diesel engine that helps them better handle rough waters on ocean-faring voyages.
The Appledores are currently owned by BaySail, a nonprofit organization based in Bay City, Michigan, that teaches sailing and environmental education programs to students. Since the program's beginning in 1998, they have helped expand the minds of more than 40,000 students.
The Appledore IV and Appledore V, sponsored by Accudyn Products, Inc. and Plyler Entry Systems respectively, will be docked at the Bayfront Convention Center after the Parade of Sail on Thursday, Aug. 22. You can book a day sail on The Appledore IV and V at tallshipserie.org/buy-tickets. Day sail tickets are limited. Tall Ships Erie 2019, presented by Highmark, will take place Aug. 22-25, 2019. The festival will showcase 14 tall ships, deck tours, day sails, live music and entertainment, children's activities, a festival marketplace, food vendors, a beer garden and much more. To purchase tickets, or for more information, go to tallshipserie.org.  
Tall Ships America organizes the TALL SHIPS CHALLENGE® annual series of tall ship races and maritime port festivals to celebrate our rich maritime heritage and traditions and to inform the general public about the transformative power of adventure and education under sail. In 2019, the tall ship races are officially sponsored by Erie Insurance. Based in Erie, Pennsylvania, Erie Insurance is a FORTUNE 500 company offering auto, home, business, and life insurance through a network of more than 12,000 local independent ERIE agents.
Source: Tall Ships Erie
Share:
---
Categories: Family Travel
Tags: Accudyn Products, APPLEDORE IV, APPLEDORE V, Erie Events, Erie PA, Inc., Plyler Entry Systems, Tall Ship Festival, Tall Ships Erie, U.S. BRIG NIAGARA
---