Two Little Chihuahuas Embark on Epic Puppy Mill Rescue
Harley and Teddy will soon be on the road again, traveling across the Midwest, saving dogs from puppy mills. Since being rescued from cages in puppy mills, where Harley lost his eye because his cage was cleaned with a power washer (with him in it), and Teddy suffered scaring and frostbite - both dogs have spent the past 4 years raising awareness about the cruel commercial dog breeding industry.
Press Release
-
Feb 24, 2016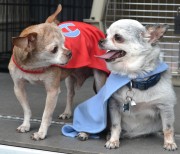 Berthoud, CO, February 24, 2016 (Newswire.com) - Harley and Teddy's campaign, "Harley to the Rescue" has raised more than a half million dollars and saved hundreds of breeding dogs that were suffering abuse and neglect.  Harley and Teddy work with the Colorado Springs based organization, National Mill Dog Rescue (NMDR), which has saved more than 10,500 puppy mill survivors to date.  The upcoming rescue will leave the NMDR facility early on Thursday, February 25th and will travel thousands of miles over 3 days, returning home late Saturday afternoon with 100+ dogs experiencing their first taste of freedom.
More information about the upcoming rescue can be found here:  www.milldogrescue.org/hearts-2-hearts
Purchase a commemorative t-shirt or hoodie and all proceeds will provide funds to save and care for puppy mill dogs.  Order here: www.float.org/nmdr
Harley's life has truly been a rags to riches story. After spending 10 years in a small cage he was freed and found a loving home where he began his triumphant journey. Harley's efforts as a 'spokesdog' against puppy mills earned him the top honor as American Humane Association's "Hero Dog of the Year" last September. He received the award during a red carpet, star-studded gala in Beverly Hills. Since then, Harley's been on The Today Show, HuffpostLIVE, Hallmark Channel's Home and Family Show and numerous news segments. He also had the opportunity to testify during a congressional caucus on Capitol Hill in Washington, DC. Receiving world-wide attention isn't enough for this tiny hero – Harley's mission will continue until puppy mills no longer exist. Learn more about Harley on his website: www.harleypuppymilldog.com
Share:
---
Categories: Pets, Animal Rights
Tags: American Humane Association, commercial dog breeding, Dan Taylor, dog rescue, Hallmark Channel, Harley, Hero Dog Awards, Home and Family Show, HuffpostLIVE, National Mill Dog Rescue, puppy mill, The Today Show
---