Two Female Scientists in the US and UK Granted $400,000 for Promising Lung Cancer Research
Funding supports search for new treatments for the deadliest form of cancer
Press Release
-
updated: Nov 15, 2016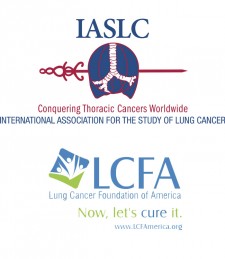 Los Angeles, CA, November 15, 2016 (Newswire.com) - More people die from lung cancer every year than any other cancers, and researchers are hard-pressed to find funding for studies that could improve treatments. As November is Lung Cancer Awareness Month, there is hopeful news. The Lung Cancer Foundation of America (LCFA) and International Association for the Study of Lung Cancer (IASLC) have partnered to fund the Lori Monroe Scholarship for Lung Cancer Research. These $200,000 grants support promising new research led by two female scientists chosen from among 33 worldwide applicants.
• Carla Martins, PhD with the University of Cambridge in England, will use the funding to study how exploiting the metabolic heterogeneity of mutant KRAS lung tumors can be used to optimize therapy.
• Kellie Smith, PhD with Johns Hopkins University School of Medicine in Baltimore, will focus on neoantigen targeting in patients with early stage non-small-cell lung carcinoma (NSCLC).
"The IASLC is proud to join LCFA in providing these grants to two very promising young investigators. These important research projects will hopefully lead to encouraging results benefiting many lung cancer patients," said Dr. Fred R. Hirsch, MD, PhD, CEO of IASLC.
"The LCFA/IASLC Lori Monroe Scholarship for Lung Cancer Research is the kind of private donor funding that is the lifeline for pioneering researchers like Smith and Martins to conduct their important work to help give lung cancer patients improved treatment options," said Kim Norris, LCFA President and Co-Founder.
To date, LCFA and IASLC have partnered to fund more than $1 million in research grants.
About IASLC
The International Association for the Study of Lung Cancer (IASLC) is the only global organization specifically dedicated to the study of lung cancer. Founded in 1974, the association's membership includes nearly 6,000 lung cancer specialists in 80 countries. For more information, visit: https://www.iaslc.org/.
About LCFA
LCFA's mission is the dramatic improvement in survivorship of lung cancer patients through the funding of transformative science, with the ultimate goal of curing the disease. Visit lcfamerica.org for the latest information and to donate.
Press Contacts
Diane Mulligan | dmullligan@mandccommunications.com |720-273-0927
Adam Mohrbacher |adam.mohrbacher@iaslc.org |720-598-1943
Source: IASLC and LCFA
Share:
---
Categories: Cancer/Oncology, Healthcare and Medical News, Medical Research
Tags: International Association for the Study of Lung Cancer, Lung Cancer Foundation of America, Lung cancer research, Lung cancer treatment
---