Two Congregations Come Together in Prayer and Song
Press Release
•
updated: Dec 29, 2017
Love and respect were the themes of an interfaith service at the Church of Scientology Sacramento.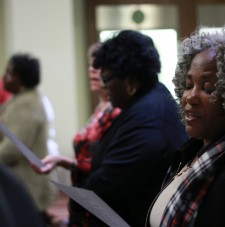 SACRAMENTO, Calif., December 29, 2017 (Newswire.com) - Church of Scientology of Sacramento hosted the Christian Fellowship Ministry for an interfaith holiday service featuring Rev. Dr. Alice Baber-Banks and her ministry's choir. Both Scientology and Christian sermons emphasized the importance of love in today's society.
Concerned that America's moral and social crisis breeds hate, Rev. Baber-Banks quoted the Bible on the power of love to unlock the heart of humanity, as shown by the outpouring of help that took place in the wake of this year's horrendous fires and floods.
She concluded by noting the universal truth in The Way to Happiness precept "Respect the Religious Beliefs of Others," adding, "This is a statement of love and concern for all of us. If we can find the good in each of us, we can make this world a place where love and respect manifest in our hearts and our actions."
The Scientology sermon was based on "What is Greatness?," an essay by Scientology founder L. Ron Hubbard, which states, "The hardest task one can have is to continue to love his fellows despite all reasons he should not. And the true sign of sanity and greatness is to so continue."
All joined in the singing of "Silent Night," led by the Christian Fellowship Ministry choir.
The service ended with Rev. Mike Klagenberg of the Church of Scientology of Sacramento presenting Rev. Baber-Banks with a truckload of canned goods collected by the Church of Scientology annual food and toy drive. This will be used by the Christian Fellowship's food service ministry that provides hundreds of meals each week to families in need.
The toys were presented last week to the Mustard Seed School of Sacramento, established in 1989 to help meet the needs of homeless children.
Source: ScientologyNews.org
Related Media