Twenty-Somethings Finding Their Way: New Book Tells of Poignant Reflections in Essays 1,000 Words or Less
Press Release
-
updated: Apr 3, 2018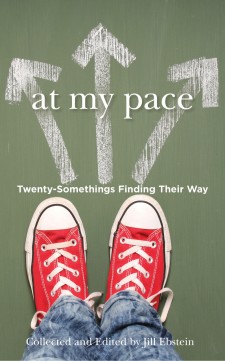 NEWTON, Mass., April 2, 2018 (Newswire.com) - Challenging assumptions about millennials, author and editor Jill Ebstein has created a thoughtful collection of stories of men and women in their twenties and their aspirations, inspirations, and lessons learned, tailored to modern-day attention spans.
With four twenty-somethings in her own family, Ebstein decided it was time to challenge the conventional wisdom about twenty-somethings. "We have a lot of experts describing a generation of entitled, overly-assertive, social-media obsessed kids, but it didn't really square with my experience." She decided it was time to hear from millennials themselves.
As part of the growing At My Pace series, Jill Ebstein found contributors who were willing to share their experiences and how they view their future. Anxiety, displacement, rejection, and uncertainty were common themes. "There were many raw moments in our discussions, but I always came back to, 'Write your piece, find your peace,' and they often did," Ebstein explains.
We learn of Sam, a contract journalist who temporarily becomes a Lyft driver when he loses his writing gig. Anna suffers from "imposter syndrome" as she pursues dreams of medical school until she finally believes she is worthy. Evan works for a hip-hop infused restorative justice organization led by and for young people impacted by violence. Maya, adopted at nine months from a Chinese orphanage, grows up in Cambridge and experiences the complexities of dual identity. There are teachers, social workers, researchers, writers, actors, engineers, social activists, a management consultant, lawyer, and even a comedian to round out the mix.
29 contributors tell a side of their demographic that we don't frequently hear. Many place themselves in settings that they hope will improve the world in some small way, usually at the expense of compensation. Some experience a muddled career path with a dose of anxiety and self-doubt as they try to figure things out. And yet they remain optimistic. As contributor Pam Skop writes, "The hard work of my 20s will lay the foundation for a more fulfilling decade ahead." Even the wistful candor of contributor Robin Berman sounds a positive note as she writes, "I am learning to accept the uncertainty and to let go of the fantasy that I would repeat my parents' clear career path."
Along with collecting stories, Ebstein, who doubles as a business consultant, used her market research skills to conduct a survey to better understand contributors' views. Contrary to popular thinking, she found that what matters most in the work setting is not fun and freedom, but people and purpose. "The mission must ring true," Ebstein explains. She adds, "The survey also showed that life experiences are their most important source of learning, and courses their least." This is a group that learns by doing.
At My Pace: Twenty-Something Finding Their Way seeks to enable a substantive conversation between generations, replacing stéréotypes with a deeper understanding. "We need to be able to internalize and articulate what others are about, and then do the hard work of building bridges," hopes Ebstein. "With better intergenerational understanding, parents, employers, and twenty-somethings all win," but Ebstein cautions, "It requires time, effort and an open mind."
About the Editor
Jill Ebstein is the editor of the At My Pace series of books – At My Pace: Twenty Somethings Finding Their Way (April 2018), At My Pace: Lessons from Our Mothers (Nov. 2016) and At My Pace: Ordinary Women Tell Extraordinary Stories (2015). She's the founder of Sized Right Marketing, a Newton, Massachusetts, based consulting firm that helps Fortune 500 companies use the customer voice to develop workable strategies that will yield results. She holds a BS from Washington University and an MBA from Wharton. Learn more at: http://www.atmypacebook.com
Source: Jill Ebstein
Share:
---
Categories: Administration and Management, Books
Tags: generation gap, intergenerational, millennial, twenty-something
---