Twenty-One Leading Finance & HR Executives Collaborate to Release Special Task Force Report on Covid-19 Agile Business & Workforce Reentry
AchieveNEXT Releases Special Task Force Report and Launches The CHRO Alliance
Press Release
-
updated: May 27, 2020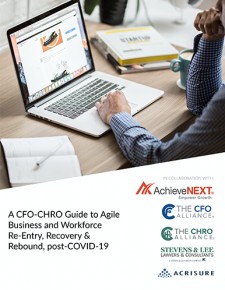 WAYNE, Pa., May 27, 2020 (Newswire.com) - AchieveNEXT, a provider of Peer Advisory Networks and specialized Human Capital Performance Solutions brought together a select group of respected Finance and Human Resources Leaders from The CFO Alliance and its newest network, The CHRO Alliance, to author a Special Task Force Report on COVID-19 agile business and workforce reentry. Written by Finance and HR leaders, for Finance and HR leaders, the Report: (1) Captures and highlights preliminary legal, practical and policy considerations and action items to consider for restarting operations and (2) outlines strategies for C-suite executives and leaders to accelerate their business and revenue rebound.
"Regardless of what they were doing just a few months ago, Finance and HR leaders from around the world have redefined core competencies and reprioritized what they and their colleagues must do to help in the fight against COVID-19," says Nick Araco, CEO of AchieveNEXT and the Alliance Peer Advisory Networks. "These decisions are most certainly creating unprecedented stress for enterprise leaders. It is our intention that this Report sheds light on best practices and peer advice that Finance and HR leaders can use to rebound and avoid any cycle of decline."
"The alignment of the office of the CFO with the office of the CHRO creates a very powerful force, and I am excited to be a part of what will surely drive these individuals and their enterprises to the next, new-level of normalization and beyond," says Robyn Pollack, respected Diversity, Equity & Inclusion Leader and AchieveNEXT's Managing Director & Leader of The CHRO Alliance.
"While the transition back to the workplace will seem daunting to many, with the right tools & information both employers and employees should feel more confident in tackling this complex situation," said Jeremy Hertz, of Acrisure's Compliance Solutions team. "Key to boosting that confidence is making sure all parties stay up-to-speed with the evolving situation and as educated and aware as possible."
The twenty-one (21) Finance and HR Leaders who authored this Special Task Force Report, along with the Report publishers, AchieveNEXT, Acrisure and Stevens & Lee, realize that COVID-19 guidance changes rapidly and suggest that readers consult with their peers and trusted advisors for the most up-to-date advice as they prepare to return employees to work.
This Special Task Force (STF) – A CFO-CHRO Guide to Agile Business and Workforce Re-Entry, Recovery & Rebound post-COVID-19 – includes commentary from: Deanna Glose, Senior Director, HR; Dina Wald-Margolis, Human Resources Director; Dina Perreault, VP, Human Resources; Dina Toal, Director of HR/HR Business Partner; Don Wademan, Chief Financial Officer; Gwen Silverstein, Director of Talent Acquisition; Heidi Stauffer, Controller; Jeff Martini, Chief Financial Officer; Kadidia Cooper, Controller; Kanhai Kapadia, CEO; Laura Remaker, Head of People; Linda Sanchez, Chief Human Resources Officer; Lynn DiBonaventura, Director, Learning and Growth, US Business Operations; Mark Kerschner, Principal; Mary Jean Herron, Advisor; Matt Schoettler, Advisor; Mia Fioravanti, Executive Director, Corporate Social Responsibility; Michael Smith, CFO; Michele Markowski, CFO/CIO; Peter Nesbitt, VP of Finance; Philip Blocker, CFO.
Those who are not Members of The Alliance Networks can request to download the Report here. For benchmarking and best practice sharing, qualified finance and HR leaders can apply for a complimentary Membership during the COVID-19 crisis with AchieveNEXT Alliance Peer Advisory Networks here. 
Report Publishers: AchieveNEXT, Stevens & Lee, Acrisure
Contact info: info@achievenext.com
Source: AchieveNEXT
Share:
---
Categories: Financial News
Tags: Agile Business, Finance, HR, Legal Considerations, Rebound, Reentry, Restarting Operations, Strategies
---