TV Carpenter Tad Starsiak Shares Tips for Spring Cleaning With TipsOnTV
Press Release
•
May 11, 2022
Learn the Secrets for Spring Cleaning Success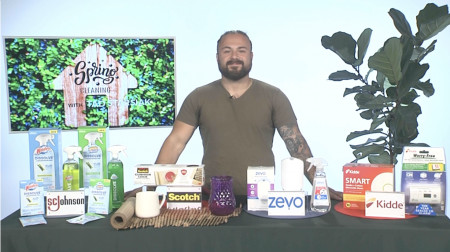 ATLANTA, May 11, 2022 (Newswire.com) - Spring may be in full swing, but it's not too late for a thorough spring cleaning to spruce up any home. Rehab expert Tad Starsiak shares ideas designed to spruce up a home and get ready for all the activities planned for the summer and beyond.
START SPRING CLEANING
Pests are always a challenge and everyone is always looking for ways to handle those pesky spring and summertime bugs. The Zevo Ant, Roach & Fly Multi-Insect Trigger Spray allows anyone to kill the insects that invade homes while being safe for use around people and pets, when used as directed. For other flying insects like fruit flies and gnats, the Flying Insect Trap gets rid of them without lifting a finger; simply plug into an outlet. Pair Zevo Sprays & the Flying Insect Trap together for whole in-home protection. All Zevo products are people-friendly, bug-deadly. For more information, visit zevoinsect.com.
IMPORTANT ADVICE
It is important to make sure homes are protected from smoke and fires. Use the trusted leader in fire and home safety: Kidde. The company just launched the Kidde Smoke + Carbon Monoxide Alarm with smart features, along with a new smartphone app. This allows anyone to check their home's safety from anywhere at any time. The app is available in the Google and Apple stores and is compatible with Google Assistant and Amazon Alexa. The device is available at The Home Depot for just under $90. For more information, visit www.kidde.com.
SPECIAL CLEANING SOLUTIONS
SC Johnson is making tidying up easier and more sustainable with the launch of new Dissolve™ Concentrated Pods in Windex®, Scrubbing Bubbles® and fantastik®. They are a spring cleaning must-have, helping to reduce plastic waste by 94% with each refill. The easy-to-use dissolvable liquid pods and reusable, 100% recyclable bottles help reduce plastic waste and provide more sustainable choices for consumers. Find them on Amazon and at retailers nationwide such as Target, Meijer and Walmart. For more information, visit www.scjohnson.com.
OTHER SPRING CLEANING SUGGESTIONS
Spring cleaning is a great time for de-cluttering and identifying items around the house that it is time to part with. It is important to keep personal belongings safe. For this, Starsiak suggests the Scotch Cushion Lock Protective Wrap. It is essential for shipping, moving or storing. It is a sustainable packaging solution that offers proven protection by expanding to conform, cushion and immobilize fragile and non-fragile items while on the move. It is made with 100% recycled paper and is an easy-to-use alternative to plastic cushion wrap. For more information, visit www.scotchbrand.com.
Contact: tipsontv@gmail.com
Source: TipsOnTV