Tuxera Partners with Xinnor, Cheetah RAID to Create New Enterprise Storage Solution for Media and Entertainment Industries
Press Release
•
Apr 14, 2023
Leaders in data storage, management, transfer and NVMe server design to unveil prototype at 2023 Centennial NAB Show in Las Vegas.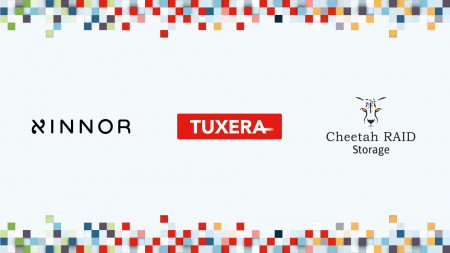 HELSINKI, April 14, 2023 (Newswire.com) - Tuxera, Xinnor, and Cheetah RAID Storage, leading innovators in their own areas of data management and storage, have teamed up to create a proof of concept to address the unique storage challenges in the media and entertainment industry. The companies will debut their solution at the 2023 Centennial NAB Show, the annual conference of the National Association of Broadcasters, on April 15-19 in Las Vegas.
The joint enterprise storage proof of concept incorporates the companies' excellence in their specific fields. "Xinnor's strength is storage, Cheetah RAID's strength is reliable hardware, and Tuxera's strength is data movement. All three of us are united in delivering the fastest possible performance and in ensuring data integrity," said Heinrich von Keler, Director of Enterprise Solutions at Tuxera.
Tuxera is an international leader in enterprise storage, networking technologies and data storage management. Tuxera's Fusion File Share is an SMB implementation that provides users with the fastest and most reliable access to shared file resources, with all the features required by modern enterprise organizations.
Cheetah RAID Storage is the leading builder of NVMe servers for the media and entertainment industries and the driver of the NVMe server and storage revolution. The company specializes in cutting-edge hardware that delivers the fastest possible performance and peak reliability in challenging environments and demanding use cases, like autonomous vehicles and U.S. Navy systems.
Xinnor is the developer of xiRAID, the first and fastest software RAID engine, with performance surpassing that of any hardware RAID controller and with even greater reliability. It is the only software solution on the market that effectively works with local and networked NVMe devices and is purpose-built for the new generation of flash drives.
Together, the companies said, their solution delivers the highest performance and reliability and unique capabilities and features for the exponentially evolving media and entertainment sector.
"Tuxera, Xinnor, and Cheetah RAID Storage all innovate in their space, share the same values, and are focused on providing the same capabilities and value to our clients. In each of our areas, we individually deliver the best available solution on the market, and so when the three companies come together, we can create something that uniquely meets the performance and reliability demands for the media and entertainment industry," von Keler said.
"Cheetah RAID Storage was founded in 2006 with video data storage as our focus," said Doug Emby, Vice President of Operations for Cheetah RAID Storage. "Since then, we have established ourselves as a leader in building high-performance, small form factor NVMe servers for the most demanding use cases, including media and entertainment."
"Xinnor's special RAID layer, xiRAID, is by far the fastest and most secure software RAID solution on the market, extracting significantly higher performance than traditional RAID software or hardware solutions," said Davide Villa, Chief Revenue Officer at Xinnor.
For the 2023 Centennial NAB Show, the three companies will demo their prototype solution that visitors will be able to test and use, live, at the companies' booth (N3364). After gathering user feedback, they will bring the solution to market.
The solution is designed specifically for the needs of the media and entertainment industry, where tasks like video editing, visual effects, color grading, and rendering demand maximum performance and the utmost in protecting data integrity.
The companies' joint solution will use Cheetah RAID Storage's Prowler Rugged Server and Raptor 2U Rugged Server. Both servers support one or three individual Gen4 canisters, which are compatible with both servers and allow "hot-swapping" - quick and reliable physical transfer of data from recording locations to production or editing sites. This gives the end user flexibility in how they transfer data.
Xinnor's xiRAID handles the actual storing of data, such as video files, on the Cheetah RAID storage servers. Xinnor optimized xiRAID to handle sequential large block writes with the maximum efficiency, a feature positioned for media and entertainment industry workloads, Villa noted. It is designed to operate as close to hardware capability limits as possible and to maintain data integrity regardless of any issues with hardware during read and write operations.
Tuxera's Fusion File Share connects the users of data over networks to the storage servers. It takes the data from storage, via Xinnor, then sends the data over the network to the user. For example, a video editor would access the data via Fusion File Share, which ensures the editor has an extremely fast connection for efficient editing. It also ensures data integrity during data movement regardless of infrastructure issues: As long as any server in the cluster is running, users have access to their data and will lose no time or data.
The three companies' combined solution fits the use cases becoming prevalent in media and entertainment. When video shot in one place needs to be moved to another location for editing, hot-swapping between servers - as provided by the Cheetah RAID hardware - makes things easier and faster for the users. Xinnor's xiRAID uses its own patented RAID calculation engine and employs tools that reduce the number of read-modify-write operations to achieve peak speed when writing data. Tuxera's SMB implementation, Fusion File Share, allows users to connect to those servers over the network and start editing seamlessly.
xiRAID software was tested* on the Cheetah platform through Tuxera's SMB Direct implementation on relevant media loads and got impressive results:
Up to 21 GB/s writes and up to 33,5GB/s reads on the local test to the filesystem.
Up to 10GB/s writes and up to 10GB/s reads across the network using the SMB Direct share.
"Our solution provides a host of potential benefits for media and entertainment use cases, where the industry has no dedicated solutions today. We're excited to show them to the world at the NAB Show," von Keler said.
To learn about the new enterprise storage solution from Tuxera, Xinnor and Cheetah RAID Storage, visit their joint booth at NAB, booth number N3364.

*Frametest 4 stream, 4K-video and sequential read/write across the network and locally using SMB-shares on client (xiRAID RAID 5 with 5 NVMe drives and NVIDIA Mellanox ConnectX 5 100GbE adapter).
About Tuxera
Tuxera is the leading provider of quality-assured data storage management software and networking technologies. We help people and businesses store and move data reliably while making file transfers fast and content easily accessible. Our software is at the core of billions of phones, tablets, cars, TV sets, cameras, drones, external storage, routers, spacecraft, IoT devices, and public cloud storage platforms.
Tuxera's customers include car makers, device manufacturers, industrial equipment manufacturers, data-driven enterprises, and much more. They rely on our software to protect data integrity, improve storage performance, transfer data rapidly and securely, and extend flash memory lifetime in their products and for their projects. We are also members of JEDEC, AGL, SD Association, The Linux Foundation, and other industry associations. Founded in 2008, Tuxera's headquarters are located in Finland, with regional offices in China, Germany, Hungary, South Korea, Japan, Taiwan, and the U.S.
To learn more about how Tuxera protects data integrity, visit https://www.tuxera.com.

About Xinnor
Xinnor is an Israeli-based software development company that specializes in creating innovative data storage solutions. Our main product is xiRAID, a patented software RAID technology that delivers exceptional performance. xiRAID is a product of a decade of math research, unique algorithms of data protection and in-depth knowledge of modern CPU operation. Although it works with all types of storage devices, xiRAID really shines when deployed together with NVMe® or NVMe-oF™ devices. xiRAID is the only software solution in the market capable of driving up to 97% of raw device performance in computationally heavy RAID configurations, while maintaining a very modest load on the host CPU and low memory footprint. To learn more about Xinnor and xiRAID, visit: https://xinnor.io.

About Cheetah RAID
Cheetah RAID Storage was established with a focus on delivering RAID storage and servers to video surveillance companies. Since then, we have become a renowned provider of high-performance NVMe servers with a small form factor, catering to the needs of the Media and Entertainment, Autonomous Vehicle markets, and the US Navy. Our position as a leader in the industry is attributed to our commitment to developing state-of-the-art solutions that address the unique requirements of our clients. Our solutions are especially suitable for applications where space is limited and performance is critical. Our compact NVMe servers are engineered to deliver optimal performance and reliability while minimizing their physical footprint.
To discover more about the high-performance NVMe servers offered by Cheetah RAID Storage, visit http://www.cheetahraid.com.
Source: Tuxera