TutorUp Founders Nirant Gupta, David Peters to Sell Shares in All-Cash Deal
Press Release
•
updated: May 12, 2021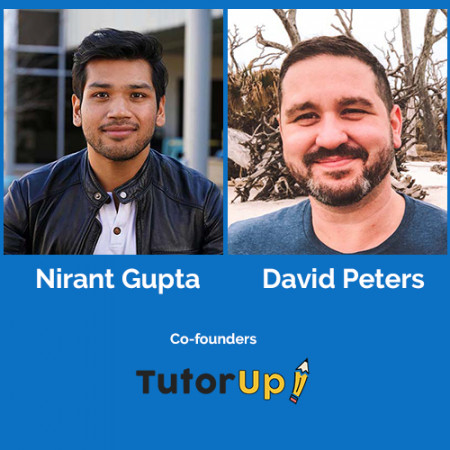 NASHVILLE, Tenn., May 12, 2021 (Newswire.com) - TutorUp, an EdTech startup and tutoring marketplace founded in 2016 by Nirant Gupta and David Peters, has agreed to terms to buy back the founders' shares in an undisclosed, all-cash deal.
Upon completion of the transaction, Peters will step down from the Board of Directors while Gupta will remain as a visitor to the Board. As founding CEO, Gupta oversaw the company's strategy, fundraising, product development, sales, and customer support functions while Peters, as founding CTO, built, managed, and scaled the software.
"We poured our blood, sweat, tears, and savings into this company for the last five years," Gupta said. "In the process, we've given students and teachers new tools, helped teachers earn millions of dollars, and provided affordable, high-quality tutoring to families across the country. We're so proud of TutorUp and are excited for its future."
TutorUp sought the transaction as the company enters a growth phase and raises capital from new and existing investors. Ray Capp, CEO and President of TutorUp and former COO at Ingram Entertainment, noted, "We're extraordinarily optimistic about TutorUp's growth. Our investors believe in our technology and world-class tutoring service so much that they wanted to buy back company shares while compensating Nirant and David for their exemplary work in getting the company to its current position."
The company, founded in Nashville, pairs teachers offering after-school tutoring with parents looking for supplemental help for their children.
Peters remarked, "It can be hard for mission-driven companies to build successful businesses. We're so glad we were able to achieve commercial goals while also changing the lives of students across the country."
Certain moments stuck out for Gupta. "What I'll remember most are texts from overjoyed parents. They showed us that tutoring isn't just about improving someone's grades; tutoring can change a student's confidence and transform their attitude towards learning. Those texts will stick with me."
Gupta and Peters both said they would take time to celebrate with each other and loved ones before thinking about what's next. "The last year exhausted all of us, and we're both so fortunate to have some flexibility going forward," said Peters.
TutorUp will prioritize partnership and product development efforts as it moves into its next phase of growth. Capp remarked, "We're excited to help parents find exceptional tutors. Come onto the site anytime, and know that you're in good hands."
Source: TutorUp