Turning Crypto Into Crude, One Dallas Company is Now Accepting Bitcoins to Purchase Mineral Rights in the STACK.
Press Release
-
updated: Jan 4, 2018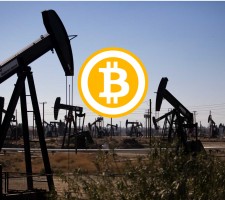 DALLAS, TEXAS, January 4, 2018 (Newswire.com) - Stack Royalties, LLC, (Stack Royalties) the #1 provider of minerals of the STACK play in Oklahoma, proudly announced today that it will now accept Bitcoin, Litecoin, and Ethereum cyber currencies for mineral rights purchases in the famously emerging STACK play of Oklahoma.  Stack Royalties, which was first to market in providing deeded mineral rights to the masses, is now first to market yet again. Stack Royalties is providing investors in the "Crypto Craze" the ability to liquidate some of their profits in digital currencies to buy hard assets in the STACK, the fastest growing oil and gas play in America.  The over-pressured STACK, which Merrill Lynch rates as the highest rate of return oil and gas play in America, is the area where Stack Royalties completely focuses its portfolio of minerals.
"It's an exciting day for us, bringing mineral rights into the 21st century," said Stack Royalties' President Dan Lane. "Accepting Bitcoin for mineral rights is the next step in a rapidly evolving digital currency era, and we are thrilled to be a part of it.  As the overpriced Permian Basin of Texas starts to cool and the STACK Play of Oklahoma starts to reach its full potential, minerals rights and subsequent lease prices are expected to rise significantly in 2018," said Mr. Lane.
About Stack Royalties
Stack Royalties was formed after years of experience within the STACK play of Oklahoma in order to capitalize on best in class mineral assets not typically available to the accredited public.  Stack Royalties provides deeded mineral ownership in front of the drill bit which offers better mineral appreciation as the play emerges and ultimately gets drilled and put into production. Key Players in the STACK with active drilling schedules are Devon Energy, Continental Resources, Newfield Exploration, Cimarex Energy, Marathon Oil, and many other oil and gas corporations.
Forward Looking Statements:  This report includes forward looking statements pursuant to the Private Securities Litigation Reform Act of 1995.  Such forward looking statements cannot be sustained by historical facts, and must be interpreted as such.
Media Contact
Stack Royalties PR Department
214-389-8280
management@stackroyalties.com
Source: Stack Royalties, LLC.
Share:
---
Categories: Financial News, Investments, Energy, Real Estate Investments, Cryptocurrency
Tags: bitcoin, ethereum, litecoin, mineral rights, oil and gas, Oklahoma Stack, permian basin, stack royalties
---