Tube Bender Integrated Manufacturing Concepts Acquired by Investor
Press Release
•
updated: Sep 17, 2020
'I was immediately intrigued by Integrated's tremendous growth potential.' - Tom Tilma, Buyer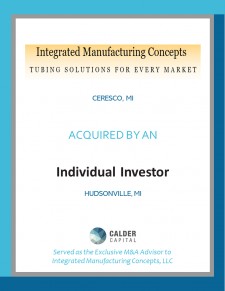 GRAND RAPIDS, Mich., September 17, 2020 (Newswire.com) - ​​​Midwest M&A firm Calder Capital, LLC is thrilled to announce that Integrated Manufacturing Concepts of Ceresco, Michigan, has been successfully acquired by an individual investor, Tom Tilma.
Integrated Manufacturing Concepts is a tube fabrication and bending products manufacturer serving various industries. Mark Lowell founded Integrated Manufacturing Concepts in 2003.
Lowell is a veteran in the industry, with experience as a plant manager, manufacturing consultant, and founder of Integrated. When Mark's wife retired this past year, he decided that it was a good time to sell the company to the right buyer, join his wife in retirement, and spend more time with his family.
Integrated Manufacturing was highly sought after on the market, ultimately being sold to an individual investor, Tom Tilma. Tilma, an experienced sales engineer and manager, was in the market for his own manufacturing business when he found Integrated Manufacturing. Tom plans to build on the foundation that Mark laid for the company and uphold the founder's high-quality standards while growing the company to meet market demand and begin to expand into larger diameter bending.
"I was immediately intrigued by Integrated's tremendous growth potential," said Tilma. "Mark prioritized finding the most efficient and effective materials and equipment to decrease lead-time and costs. He is very attentive to quality. I hope to bring that same quality standard to the industry, but on a larger scale."
"Mark Lowell built a genuinely nice and sustainable business with a lot of room to grow. We are very pleased to have found the right buyer in Mr. Tilma. It'll be exciting to see how he expands on Mark's work in the near future," Max Friar, Managing Partner at Calder Capital, commented on the acquisition. "It's an exciting transaction for us as well, marking our 25th of 2020. Our firm has worked hard this year to strengthen our pipeline, and it is rewarding to see how that work is paying off. We fully expect to hit our goal of 30 transactions before the year ends."
Calder Capital, LLC served as the Mergers & Acquisitions advisor to Integrated Manufacturing Concepts. Sam Scharich was the lead advisor on the acquisition. Sixty-eight buyers signed non-disclosure agreements and Calder received three competitive written offers.
"Sam was a great advisor to have in our corner," said Mark Lowell, about the transaction. "He's extremely passionate and energetic, and he brings with him Calder Capital's mission to create a marketplace of multiple offers. He was not inclined to wait for buyers to come to us; he really stepped out to boost interest. It's thanks to his hard work and tenacity that we ended up being at such a competitive advantage for the sale."
To inquire confidentially about selling a business, please contact Calder Capital confidentially at info@caldergr.com or 844-452-4445.
Source: Calder Capital, LLC
Additional Links