TTUHSC El Paso Faculty Teach Students While Caring for Migrants
Press Release
•
Mar 3, 2023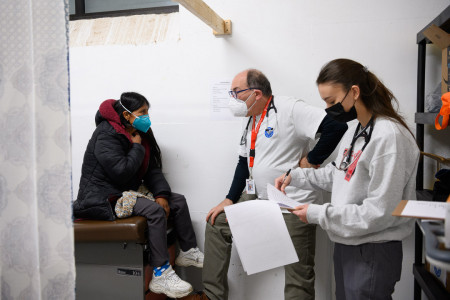 EL PASO, Texas, March 3, 2023 (Newswire.com) - The influx of migrants and asylum seekers crossing the U.S.-Mexico border in the El Paso area has resulted in a spike of medical emergencies. To provide health care, Texas Tech University Health Sciences Center El Paso and Texas Tech Physicians of El Paso have collaborated with Doctors of the World USA and Annunciation House - a volunteer organization offering hospitality to migrants, immigrants and refugees - to launch the Border Health Program. The program serves the migrant population by placing TTUHSC El Paso faculty and students in a Doctors of the World clinic within Annunciation House facilities.
TTP El Paso specialists provide basic and emergency health care, similar to an urgent care clinic. As the official practice of TTUHSC El Paso's Foster School of Medicine, each specialists holds a faculty appointment. They're teaching future physicians, many of whom will practice on the U.S.-Mexico border.
With more than 200,000 migrants crossing per month, the Border Health Program partnership is critical to providing medical care during this humanitarian crisis, said Glenn Fennelly, M.D., M.P.H. He is professor and chair of the Foster School of Medicine's Department of Pediatrics and board president of Doctors of the World USA.
Dehydration and other heat-related illnesses are prevalent among migrants in the summer, and the cold can be unforgiving in the winter. The migrants' journey can also be deadly: In 2021, Customs and Border Protection recorded 557 Southwest border deaths.
The clinic also has helped migrants with physical ailments, preventative care and getting prescriptions.
"Many of them have chronic conditions including diabetes, asthma or high blood pressure. In some cases, their medication was confiscated," Dr. Fennelly said. "There may be worsening of these chronic diseases during their journey. There's some level of malnutrition along with not being vaccinated that puts them at risk for severe viral illnesses, including the flu or COVID-19."
TTUHSC El Paso medical residents also provide care in the clinic, while Foster School of Medicine and Hunt School of Nursing students assist with intake and triage. Dr. Fennelly said the clinic will become part of the available rotations for TTUHSC El Paso students and residents. The experience will prepare them for unique health issues they'll encounter while training in the Borderplex, an area that encompasses Texas, New Mexico and Mexicoo.
The clinic also aids with immediate emergencies such as severe sprains and sexual assault injuries. According to a report from the UC Berkeley School of Law's Human Rights Center, an estimated 24-80% of women suffer sexual violence en route to the U.S., along with 5% of men and 50% of gay and transgender persons.
For many migrants, especially children, relocating to a different country can affect mental health, particularly if they witnessed or experienced traumatic events along the way.
Cecilia De Vargas, M.D., program director of the Foster School of Medicine's Child and Adolescent Psychiatry Fellowship, said many youth have anxiety, depression and post-traumatic stress disorder. Some have thought about or attempted suicide.
"Like any other injury, the longer they go untreated, the worse their problems get," Dr. De Vargas said. "Although El Paso is likely not their final stop, our goal is to assist with the mental emergencies caused by the trauma they've endured. We work to provide continuity of care and referrals for mental health providers once they settle in a new community."
Physical injuries to migrants sometimes require complex surgeries. Some of the most serious are injuries from border wall falls, which have increased more than fivefold since 2019, according to the American Medical Association. Fall injuries cause severe swelling, requiring pins and braces to stabilize the injury prior to surgery. In those cases, migrants are referred to emergency rooms or TTP El Paso orthopaedic specialists.
In addition to establishing the migrant clinic and offering educational experiences for TTUHSC El Paso students and residents, the Border Health Program will share research data to build a foundation for scholarship around migrant and refugee care. The program will serve as an international information exchange to establish best practices and advocate for a healthy future for migrants and refugees.
TTP El Paso specialists and TTUHSC El Paso students are unique in their ability to provide bilingual English-Spanish health care and education to those most in need. The Foster School of Medicine was one of the first medical schools in the country to include medical Spanish in its curriculum.
"Seeing a smiling face, a reassuring voice, lets them know they've arrived and are welcome in this clinic," Dr. Fennelly said. "That's something we want to build on and let them understand we're trying to take care of their health care needs."
Doctors of the World USA (DotW) is the U.S. chapter of the global Médecins du Monde (MdM) network, an international health and human rights organization made up of 17 chapters around the world working on both domestic and international health projects. Founded in 2011, DotW provides emergency and long-term medical care to vulnerable people, wherever they are. They strengthen people's access to quality medical services and fight for universal access to health care by advocating for sound, evidence-based public health policy.
TTUHSC El Paso is the only health sciences center on the U.S.-Mexico border and serves 108 counties in West Texas that have been historically underserved. In 2023, TTUHSC El Paso celebrates its 10th anniversary as an independent university within the Texas Tech University System. In a decade, the university has graduated over 2,000 doctors, nurses and researchers, soon adding dentists to its alumni.
Texas Tech Physicians of El Paso is the region's largest multispecialty medical group practice, with over 250 specialists providing world-class patient care.
To support either organization, please contact Craig Holden in the TTUHSC El Paso Office of Institutional Advancement at 915-215-5943 or craig.holden@ttuhsc.edu.
Source: Texas Tech University Health Sciences Center El Paso