Tryke Companies Teams With RiFF RAFF for Exclusive Cannabis Strains
"Lamborghini Leg Lock" and "Red Carpet Kush" will be grown and distributed exclusively by the NV / AZ cannabis cornerstone
Press Release
-
updated: May 1, 2017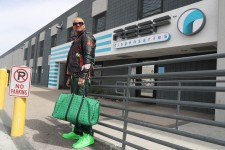 Las Vegas, NV, May 1, 2017 (Newswire.com) - Tryke Companies, operators of Reef Dispensaries in Nevada and Arizona, is proud to announce a new partnership with American recording artist and global ambassador RiFF RAFF as the exclusive producer and distributor of two strains of medical cannabis. "Red Carpet Kush," an uplifting, inspirational sativa, and "Lamborghini Leg Lock," a stunningly potent indica, will be the premiere strains of the line, endorsed and curated by RiFF RAFF himself.
"It's the equivalent to when the Lamborghini came out," said RiFF. "Imagine NASA, when it first came out with the space program. This is what this is."
Tryke's alliance with RiFF RAFF is the company's third excursion into celebrity-branded medical cannabis, continuing in the tradition and runaway success of Wiz Khalifa's Khalifa Kush and the Exotikz By Berner line of top shelf strains.
"Following Khalifa Kush and Exotikz, we're happy to have RiFF RAFF as a product curator here at Reef," said Matthew Morgan, CEO of Tryke Companies. "His unique taste lends a bold new perspective to the medical cannabis market."
The two strains will be unveiled at Reef Dispensaries' Las Vegas locations available May 1st and in Northern Nevada on May 5th.
Reef Dispensaries' 165,000-square-foot indoor cultivation facility, as seen on Complex news, is the largest of its kind in the state. Reef's Las Vegas base of operations uniquely houses each the cultivation, production, and sale of its products under one roof.
Reef Dispensaries offers care for medical marijuana patients at six locations across Nevada and Arizona, with an unprecedented level of concierge customer service and a wide selection of products for every palette.
About Tryke:
Tryke Companies is a network of ten MMJ licenses for the cultivation, production and retail sale of medical cannabis in Arizona and Nevada. Tryke retail operations, d.b.a. Reef Dispensaries, has existing dispensaries in Nevada (Las Vegas, North Las Vegas, Sparks, Sun Valley) and Arizona (Central Phoenix, Queen Creek), with additional locations coming soon.
Like Reef on Facebook at Reef AZ NV (https://www.facebook.com/Reefaznv)
Follow Reef on Twitter @ReefDispensarie (https://twitter.com/ReefDispensarie)
Read about Reef Dispensaries on Complex: http://www.complex.com/life/2017/01/inside-wiz-khalifas-weed-dispensary
About Riff Raff:
Riff Raff is an American musician from Houston, TX, known for such hits as "TiP TOE WiNG iN MY JAWWDiNZ" and "Dolce & Gabbana." He boasts over 140 million cumulative YouTube views and over 1 million fans each on both Twitter and Instagram. He released his first album, Neon Icon, through Diplo's Mad Decent label and recently followed up with his second album in late 2016, Peach Panther. Riff Raff has worked with a stable of A-list artists and celebrities throughout his career, including James Franco, Chance the Rapper, Lil Yachty, Wiz Khalifa, Donald Glover, Mike Posner, Gucci Mane, G-Eazy, Travis Barker, and many more. He has also appeared on Vice's Traveling the Stars: Ancient Aliens with Action Bronson, MTV2's Wild 'N Out, and MTV's G's to Gents, among other television shows.
Riff Raff Instagram: https://www.instagram.com/jodyhighroller/
Riff Raff Twitter: https://twitter.com/jodyhighroller
Riff Raff YouTube: https://www.youtube.com/user/JodyHighRoller
Photos by Danny Mahoney // Instagram: @dmahoneyphoto
Adam Laikin
Director of Marketing | Tryke Companies | 3400 Western Avenue | Las Vegas, NV 89109
Source: Tryke Companies
Share:
---
Categories: Music, Arts and Entertainment, Cannabis
Tags: arizona, cannabis, dj, edm, hip-hop, las vegas, marijuana, music, nevada, rap, riff raff, weed
---