Trust is the "New Currency" for Business Success
Press Release
•
updated: Apr 17, 2018
An Invitation to TAP INTO TRUST™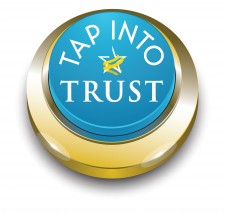 New York City, April 17, 2018 (Newswire.com) - Consumers are increasingly demanding trust, and businesses are responding. The time is now for less trust "talk" and more trust "action."
Trust Across America-Trust Across the World was founded in April 2008 at a time of financial crisis and the undermining of trust in our institutions. To mark our 10-year anniversary, we are introducing TAP INTO TRUST™ and launching our Million Taps Campaign ™ so website visitors can tap our "Trust Button" and learn about our TAP principles. These Principles were designed to raise awareness, start a dialogue, and provide more solutions for elevating organizational trust.
Consumers are increasingly demanding trust, and businesses are responding. To maintain long-term, positive stakeholder relationships, leaders must make trust an intentional organizational imperative."

Barbara Brooks Kimmel, CEO & Cofounder
Prepared in collaboration with our Trust Alliance, the world's leading group of trust scholars and practitioners, TAP, the Trust Alliance Principles, can be applied and practiced in any organization of any size. By agreeing to endorse and pay attention to the TAP principles, trust can be built one person, team, project and organization at a time. Early organizations endorsing TAP include Bioethics International, Ethical Systems, Powernoodle®, the Rochester Area Business Ethics Foundation and the Ethics & Compliance Initiative.
Other 10thanniversary programs include:
· The expansion of tools and resources for our growing global Trust Alliance membership.
· The formation of a twelve member Trust Council including leading expert Stephen M.R. Covey, and other cross-functional professionals, among them Dr. Holly Latty-Mann, Charles H. Green, Bob Whipple and CEO Art Barter.
· A special "spring issue" report on Good Governance via TRUST! Magazine.
· A free Case Study Trustlets™ Library for use by academics and practitioners.
· An update on our FACTS® Framework research study.
According to CEO and Cofounder, Barbara Kimmel, "Organizations are being challenged to become more trustworthy. We often hear about trust in the context of rebuilding it after a crisis. But to maintain long-term, positive stakeholder relationships, leaders must make trust an intentional organizational imperative."
"Through our TAP Program and Million Taps Campaign, TAA-TAW will continue to collaborate and build unique quantitative and qualitative tools to measure and elevate organizational trust and trustworthiness. The business case for trust has been proven. Enlightened leaders have made trust a business imperative. They are reaping the rewards- higher productivity and engagement, lower employee turnover, faster decision-making, lower risk of crisis, and increased profitability. Our website currently attracts close to 1,000 visitors every day who are seeking solutions to elevating trust. We will continue to provide those much needed answers."
Will you join our community as we TAP INTO TRUST? Just click here to start.
Trust Across America-Trust Around the World™ is a program of Next Decade, Inc., an award-winning communications firm that has been unraveling and simplifying complex subjects for over 20 years. TAA-TAW helps organizations build trust by offering an abundance of resources, tools and collaborative opportunities. It is also the developer of the FACTS® Framework measuring the trustworthiness of US public companies for over 8 years, and showcases individuals and organizations exhibiting high levels of trust and integrity.
CONTACT:
Barbara Kimmel
​CEO and Cofounder
Trust Across America - Trust Around the World
(908) 879-6625
barbara@trustacrossamerica.com
Source: Trust Across America-Trust Around the World
Related Media