Trump Duck Is Here to Make a Splash!
Operation Golden Duck, has officially unveiled its plan: to make the world's largest rubber duck-based political statement.
Press Release
-
updated: Jan 11, 2018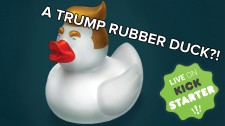 LOS ANGELES, January 11, 2018 (Newswire.com) - Currently, the partisanship of different political views has made it difficult for an individual to present their political opinions without the fear of public backlash and hostility. Operation Golden Duck has been in development since August 2017 and aims to create a medium where anyone can express their opinion on the state of the world through rubber ducks. That is correct, rubber ducks. Operation Golden Duck is encouraging its backers to write messages on their rubber ducks and send it back to the company, where they plan on releasing all of them in a prominent body of water.
"Talking about politics is obviously divisive, but there needs to be lightheartedness in its discussion," said Hayden Michael, the creator of the Golden Duck. "Operation Golden Duck allows the anyone to take part of an anonymous statement. With enough Golden Ducks we can entirely fill a large body of water, such as the World War II Memorial in Washington D.C., where our politicians are forced to notice what their constituents say."
The Golden Duck is aiming to sell a minimum of 500 sets of Golden Ducks, which will be enough to start full-scale manufacturing. Hayden Michael has already completed all prototyping and is ready to start production. The ducks will be made out of the same soft PVC as other rubber ducks.
"With backer support, the Golden Duck can reach lofty heights," said Klaus Moeller, manufacturing consultant for the Golden Duck. "It's a project of scale, the more people who participate in this statement the more elaborate we can make this project. There are also plans of creating other ducks of (in)famous figures in the entertainment world. An entire line of ducks based off of controversial figures!"
The Kickstarter: https://www.kickstarter.com/projects/operationgoldenduck/trump-duck-making-rubber-ducks-great-again
What is Operation Golden Duck?
Operation Golden Duck is creating the greatest rubber duck in the world and is using it as a medium for an anonymous political statement. Operation Golden Duck is currently featured on Kickstarter. Operation Golden Duck will also be posting pictures of the ducks its backers return on its dedicated website, showcasing each one of their messages to the world.
Operation Golden Duck Website: www.operationgoldenduck.com
YouTube Video: https://www.youtube.com/watch?v=YUfLZDLTJIg
Source: Operation Golden Duck
---
Categories: Politics, Political Corruption, Arts and Entertainment
Tags: crowdfunding, donald trump, duck, golden duck, kickstarter, trump
---