Tromzo Raises $8M to Bring Deep Environmental Context to Application Security Posture Management
Press Release
•
Aug 3, 2023
Leading Security and Development Teams Use Tromzo to Prioritize and Remediate the Risks That Truly Matter From Code to Cloud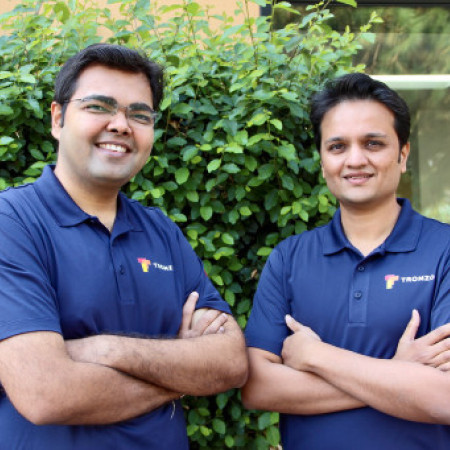 MOUNTAIN VIEW, Calif., August 3, 2023 (Newswire.com) - Tromzo, the leader in Application Security Posture Management, today announced it has secured an additional $8 million in an oversubscribed seed round led by Venture Guides, new investors Alumni Ventures, Uncorrelated Ventures and strong participation from existing investors. The current funding adds to the earlier investment in Tromzo made by Innovation Endeavors, in addition to 27 leading CISOs that personally invested in the company. The new investment will further establish Tromzo's leadership in the hyper growth category of Application Security Posture Management (ASPM), deepen partnerships with other application and cloud security platforms and fuel global business growth.
ASPM has recently emerged as an exciting new category of tooling that aims to help organizations understand and improve the risk posture of applications by analyzing security signals across software development, deployment and operations. According to Gartner, this new category is poised for explosive growth over the next three years, going from five percent adoption across enterprises to adoption by 40% of organizations by 2026.
Reflecting the tremendous growth in this new category, Tromzo in the past six months has already amassed customers across Fortune 500 companies, FinTech, HealthTech and unicorn SaaS businesses while quintupling the revenue and doubling the headcount. "The reason we're seeing this explosive growth at Tromzo, is not just because every security team is drowning in thousands of alerts a day from multiple security scanners, but also because our technology brings a differentiated context-based approach to automating the entire risk remediation lifecycle," said Harshil Parikh, CEO and co-founder of Tromzo. "By leveraging context from Intelligence Graph and using LLMs/AI, our customers are able to tune out irrelevant noise from the variety of security scanners and automate the remediation lifecycle of their most pressing security risks," said Harshit Chitalia, CTO and co-founder of Tromzo.
According to Joshua Scott, CISO at Postman, a Tromzo customer, "We are an API Platform for developers and as the world's largest API hub, it is paramount for our business to continuously measure and enhance the risk posture of the software we are building. The fact that Tromzo can automatically bring in deep environmental context is a game changer. With this context, we are able to understand which few software assets are critical to our business, automate the remediation lifecycle of the few issues that matter and measure the outcomes continuously."
"In our conversations with CISOs, we just kept seeing this same problem again and again where every security team is struggling to make sense of what code and cloud artifacts exist, what their risk posture is and which risks to mitigate first. The fact that most security teams are using tens of different security tools generating thousands of signals every day, just makes this impossible to manage," said Ben Holzman, Partner at Venture Guides. "Tromzo's founders, with their unique blend of security domain expertise and software development backgrounds, are the best team to address this challenge. Tromzo's Intelligence Graph uniquely addresses this very timely and important problem, and we are proud to back their ambitious vision."
About Tromzo
Tromzo accelerates risk remediation from code to cloud. By integrating with existing development and security tools, Tromzo builds a comprehensive software artifact inventory and ownership model with intelligent context from code to cloud — enabling users to automate the complete remediation lifecycle of issues that truly matter. Backed by top investors including Venture Guides, Innovation Endeavors, Operator Partners, SVCI and 25+ leading CISOs.
For more information, visit www.tromzo.com and follow us on LinkedIn and Twitter.
About Ventures Guides
Venture Guides is an early-stage firm offering a unique investing and operating approach that helps startups with product management and commercialization strategies in the infrastructure software domain. The firm's transparent and team-based approach delivers entrepreneurs consistent yield and strong profit performance. Forbes Midas List and Inc. 5000 rankings have recognized the performance-driven achievement of Venture Guides' partners multiple times. "We are guides for growth."
Source: Tromzo