Trojan Battery HQ UpGrades Re-Roof Project With SKYCO Skylights UL Listed Smoke Vent Skylights
Trojan Battery Headquarters in Santa Fe Springs, CA contracts Highland Commercial Roofing to upgrade roof with "Cool Roof" system and 100 UL Listed Smoke Vent skylights.
Press Release
-
Aug 23, 2016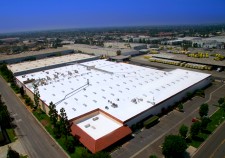 Costa Mesa, CA, August 23, 2016 (Newswire.com) - ​The world leading manufacturer of deep-cycle batteries occupies a 160,000 square foot industrial facility in Santa Fe Springs, CA. and several other large industrial buildings in California. Each facility consumes a significant amount of electrical power each month.
By adding 100 Polycarbonate Dome UL Listed Smoke Vent skylights, Trojan Battery will be able to save upwards of 40% on their power consumption for its warehouse in Santa Fe Springs. Many of the existing large square foot industrial spaces in the Greater Los Angeles area are in desperate need of this upgrade for their daylighting systems.
According to IRC (Independent Roofing Consultants) of Santa Ana, a leading roofing consultant firm. "Typically a 2% density of skylight units are utilized for effective energy reduction. Densities of 2.5 to 3 percent are being provided for newer buildings and being installed in conjunction with roof replacements to reduce energy costs associated with building lighting."
The roof originally consisted of outdated skylights significantly reducing the benefits of natural lighting. New polycarbonate dome skylights and smoke vents, like SKYCO Skylights, allow owners to maximize the use of free daylighting. Additional benefits include 10 Years against yellowing and breakage.  
Aside from the energy benefits, Trojan Battery was able to reduce their safety liability. A UL Listed Smoke vent with polycarbonate domes, not only provide ample daylighting, but they are lifesaving devices. The smoke vent is designed with two thermal triggered hatches that automatically open up in the event of a fire.
Fire Marshals and Insurance Companies love the benefits of a UL Listed Smoke Vent skylight because they allow the smoke, heat and hot gasses inside a burning warehouse to escape providing trapped workers a visible route for safe exit. They also reduce smoke damage to warehouse inventories. In many cases, insurance companies will provide a much needed break on rates when UL Approved Smoke Vents are added to the rooftop.
The re-roof was performed by Highland Commercial Roofing of Baldwin Park, CA. The commercial roofer specializes in and provided Trojan Battery HQ with a RainShield® seamless single-ply roofing system as seen in the photos. The RainShield® system, reinforced with a super tough polyester mat, uses superior waterproofing grade asphalts and highly reflective elastomeric acrylic surfacing to create a seamless, waterproof, highly reflective membrane providing a permanent, seamless, high-performance roofing system guaranteed not to leak for at least 20 years.  The "Cool Roof" system chosen reflects over 80% of the sun's radiant heat, which can reduce a building's cooling cost by as much as 50%.
With average temperatures and power costs rising, building owners and occupant are looking for new innovative ways to save money. Highland Commercial Roofing recommends a complete analysis of the skylights when owners consider re-roofing their building. Replacing old, ineffective skylights at the time of re-roof is the most cost effective method for the investment.
Highland Commercial Roofing is an experienced commercial roofing company that delivers top-quality, prompt, expert, affordable roofing solutions. Highland has successfully installed over 100 million square feet of commercial roofing throughout the Southwest and is regarded by the real estate industry for quality, value, and customer satisfaction. For inquiries contact Highland Commercial Roofing at (866) 880-5252.
Source: SKYCO Skylights
Share:
---
Categories: Roofing
Tags: Commercial Skylights, Industrial Skylights, Smoke Vent Skylights, UL Listed Smoke Vent
---