Trisotech Named Among 10 Best Performing BPM Solution Providers by Insights Success Magazine
Press Release
•
updated: Nov 9, 2017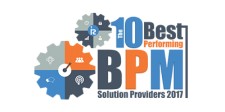 MONTREAL, November 9, 2017 (Newswire.com) - Trisotech (http://www.trisotech.com) today announced that Insights Success Magazine has named it among the 10 Best Performing BPM Solution Providers of 2017.
Insights Success Magazine presents each year the most innovative and unique companies, highlighting the ones who are bringing revolution to the world of BPM technology. This year, Trisotech is rewarded for: its unique integration of the three leading standards for process improvement, its innovative bridge between strategy and operations and its leading-edge Decision Management solution. This particular list of the magazine rewards companies offering solutions that meet the demands of savvy customers. It acknowledges that "to meet and exceed the requirements of consumers, the need for genuine and trustworthy solution providers with world-class services and products is tremendous." Trisotech has been selected as one the few solution providers that can both innovate in product development and fulfill the needs of its clients.
One of the main elements that distinguished Trisotech from other solution providers is its ability to shift focus from a business-centric to a customer-centric thinking. "Trisotech believes that Digital Transformation is a strategy and that value creation and benefits to customers should shape that strategy. Trisotech, with its Digital Enterprise Suite, is helping organizations of all scales to reinvent their business model from strategy to operations and to become more agile in delivering and improving the customer experience," says the publication.
In addition, the magazine highlights Trisotech's international presence and growth, allowing organizations all around the world to benefit from its unique solution. "Trisotech is on a continuous path to expand its organization and customer support across the globe and to provide an ever-growing set of tools to enable business people and IT people alike to define and control organizational transformations."
About Trisotech
Trisotech is a global leader in digital enterprise transformation solutions, offering innovative and easy-to-use software tools that allow customers to visualize, innovate, transform and improve their digital enterprise processes and business decisions. Trisotech customers use The Digital Enterprise Suite to provide new and revolutionary ways for their knowledge workers to collaborate and succeed in an increasingly global, connected and competitive world. Trisotech products are providing digital transformation help to communications, agriculture, manufacturing, financial, healthcare, insurance, energy, distribution, government, and many other types of organizations.
Trisotech is a privately held company.
Website: http://www.trisotech.com
About Insights Success Magazine
Insights Success is the Best Business Magazine in the world for enterprises. Being a platform, it focuses distinctively on emerging as well as leading fastest-growing companies, their confrontational style of doing business and way of delivering effective and collaborative solutions to strengthen market share. Here, we talk about leader's viewpoints and ideas, latest products/services, etc. Insights Success magazine reaches out to all the "C" Level professional, VPs, Consultants, VCs, Managers and HRs of various industries.
Website: http://www.insightssuccess.com
For information
Jonathan L'Ecuyer
Marketing Manager
Trisotech
514 990-6639 ext. 501
All registered trademarks are the property of their respective owners.
Source: Trisotech
Related Media