Trillium Vein - Natalie Paige Bentley 14th Independent Music Awards Nominee
Press Release
•
updated: Apr 8, 2015
Trillium Vein/Natalie Paige Bentley Is Among 400 Of The Year's Most Exceptional Artists & Releases Nominated In The 14th Independent Music Awards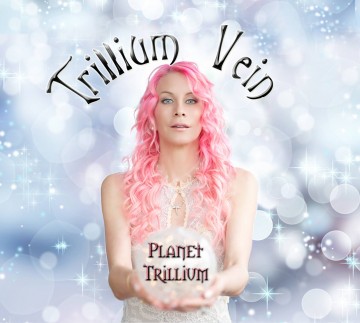 Philadelphia, PA, April 8, 2015 (Newswire.com) - Alternative, multimedia recording artist, TRILLIUM VEIN (Natalie Paige Bentley) of Philadelphia, PA was named by Music Resource Group (MRG) as a Nominee of The 14th Independent Music Awards (The IMAs), the influential awards program for independent artists and releases.
Award winning, multimedia recording artist, Trillium Vein (Natalie Paige Bentley) is nominated among an eclectic mix of established and rising talent nominated in The 14th IMAs, culled from thousands of submissions that were released during the program's eligibility period. Bentley created the Trillium Vein, award winning, multimedia masterpiece, which includes her concept album, fantasy film, interactive website and storybook which earned Domtar's Award of Excellence and ForeWords Multimedia Book of the Year, truly creating a one of kind experience for fans combining her music into her own alternative world, a la Tim Burton.
Trillium Vein (Natalie Paige Bentley) earned nominations in TWO categories - Trillium Vein's music website, www.TrilliumVein.com in the Design category and Trillium Vein - Once Upon a Time Trillium Vein in the Video-Long Form category.
Independent Music Awards nominations in more than 80 Album, Song, EP, Music Producer, Music Video and Design categories were announced for self-released and independent label artists from Australia, Belgium, Brazil, China, Croatia, Czech Republic, Canada, Colombia, England, Finland, France, Germany, Iceland, India, Israel, Japan, Latvia, Mali, Norway, Peru, Portugal, Russia, Scotland, South Africa, South Korea, Spain, Taiwan, United States and Tibet.
Winners will be determined by a panel of influential artist and industry judges including Sharon Jones, Raul Midón, Amanda Palmer, Lunice, Suzanne Vega, Meshell Ndegeocello, Kenny Wayne Shepherd, Jane Monheit, Arturo Sandoval, Melissa Auf der Maur, Shelby Lynne, "Weird Al" Yankovic, Lila Downs, Chris Wood & Oliver Wood (The Wood Brothers), Judy Collins, Bernie Worrell, Dennis Diken (The Smithereens), Adam Agee (Stellar Kart), Nathan Currin (Family Force 5), Deon Rexroat (Anberlin), Jonathan Steingard (Hawk Nelson), Terry McBride, (Nettwerk Music Group), Bob Ludwig (Gateway Mastering), Anthony DeCurtis (Rolling Stone), Benji Rogers (PledgeMusic), as well as numerous talent buyers from high profile showcase platforms and performance venues throughout the world.
In addition to the Winners selected by the Artist & Industry judges, music fans from around the world have until Friday, July 31, 2015 to vote for their favorite Nominees at The Vox Pop Jukebox, the fan-determined portion of The IMAs.
IMA Winners will be promoted to more than 1 Billion music fans via online & broadcast promotions, performance and distribution opportunities. Details and complete list of Nominees and Judges available at: www.TheIndependentMusicAwards.com ​
When asked about the nomination, Natalie Paige Bentley (Trillium Vein) replied,
"It is truly an honor to be recognized amongst a group of incredibly talented artists. The amount of time, effort, and around the clock dedication to Trillium Vein has been insurmountable, so I am deeply filled with gratitude and appreciation for these nominations. My greatest passion in life is touching the lives of others through my work as an artist and being a part of the Independent Music Awards is an Incredible opportunity to help facilitate an artist's journey, which I am forever thankful. Fans can also cast their vote in the public Vox Pop Jukebox at LONG FOR MUSIC VIDEO (Once Upon a Time Trillium Vein) and DESIGN-MUSIC WEBSITE (Trillium Vein- Natalie Paige Bentley )"
Artistry Has Its Awards
Now in its 15th year, The Independent Music Awards actively support artists and releases traditionally ignored by mainstream outlets. Produced by Music Resource Group, publisher of Musician's Atlas, the music industry's contact database, The IMAs leverage its unrivaled access to performance, promotion & distribution opportunities to place IMA artists in front of nearly 1 billion music fans around the world.
Submissions to The 15th Independent Music Awards will be accepted beginning in Spring, 2015. Details and eligibility for Album, Song, EP, Music Producer, Music Video and Design projects available at www.TheIndependentMusicAwards.com
For more information about Natalie Paige Bentley and Trillium Vein's nominations for Once Upon a Time Trillium Vein Music Video and Trillium Vein's music website visit www.TrilliumVein.com and www.NataliePaigeBentley.com
Related Media
Tags
Additional Links