Trending Luxury Beach Destination Villa Casablanca Barbados Gives Exclusive Club Feel for Travelers
Press Release
•
Jun 1, 2023
Casablanca Opens Select Booking Dates, Joining the Top Travel Trend of Curated Private Villas for 2023 and 2024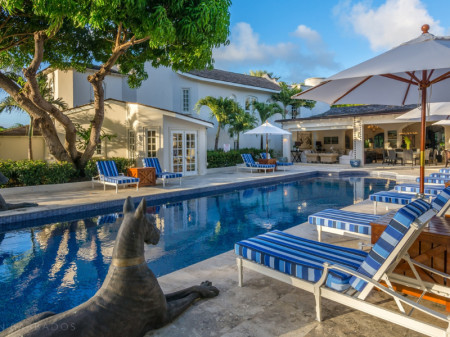 HILLABY, Barbados, June 1, 2023 (Newswire.com) - Casablanca Sandy Lane Barbados, the ultra-luxury beach villa, has opened exclusive holiday booking dates for 2023 and early 2024. As premier booking dates become available, guests can secure their dream vacation at Casablanca Sandy Lane Barbados. Whether planning a romantic getaway, group retreat, or family vacation, early booking ensures preferred dates and the utmost in luxury and personalized service. Limited booking options for January and February 2024 are now available, offering an early release of dates in response to the surge in market demand from travelers who previously postponed trips.
Barbados has been diligent about promoting the restart of tourism and creating partnerships with luxury providers to address travel demands. The key window for booking all-inclusive ventures like Villa Casablanca is typically three months in advance. That window has shifted in trending destinations, including Barbados, requiring travelers to plan well ahead of time and book six months or more in advance.
Villa Casablanca continues to provide exciting journeys of bespoke experiences on the island of Barbados. "Casablanca Sandy Land Barbados takes immense pride in our property's distinctive offerings, unparalleled service staff, and sense of being. I've designed each area to have a sense of heritage and culture for couples, groups, and families to create unforgettable memories. I'm grateful to be able to share my dream property with travelers as the tourism of Barbados and the Caribbean Sea continues to increase in demand," shares villa visionary and General Manager, Mrs. Mondo.
The esteemed destination has earned its name and value from guests, offering an unrivaled experience, defined by renowned service, full-time staff, a butler, a private chef, exquisite dining, and captivating activities for all ages. Each booking is crafted to exceed expectations and create unforgettable memories.
The villa team was hand-picked by the owner, a travel visionary who has created these smart stays to support travelers with a taste of an exclusive club feel away from home. Guests enjoy a taste of the island and the villa's luxury while knowing their travel choices directly support the local community, families, and the island's economy all in one swoop. This is sustainable and direct travel that is transparent, making truly immersive travel that matters more than just a trend but a connection that nurtures both the traveler and the community.
For reservations or more details, please contact a professional travel advisor or contact Villa Casablanca directly at 407-815-2876 or visit them at casablancabarbados.com.
About Casablanca Barbados:
Villa Casablanca is an experiential immersive villa with estate-like amenities and privacy and comfort which is part of the prestigious Sandy Lane of Barbados. Set along the West Coast region, it is a destination all its own. With expansive grounds, it offers its own tennis courts and provides unprecedented views of the Sandy Lane Golf Course. This seven-bedroom villa is a wonderful choice for a group of discerning travelers, a large family, or even a private and intimate event. With a household staff that includes a chef, laundress, housekeepers, and a butler, your every need is attended to in the most idyllic and luxurious surroundings imaginable. From the exquisite comfort of your private pool terrace, you will enjoy leisurely private getaways.
Source: Villa Casablanca Barbados