Travel Channel Host Meggan Kaiser Shares Tips to Prepare for Camping on TipsOnTV.com
Press Release
•
Jun 21, 2022
Meggan Kaiser, Author of 'Free Travel for the Modern Nomad', Shares Tips for Enjoying National Camping Month.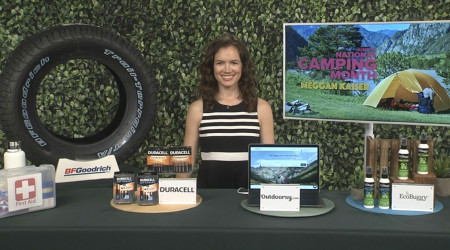 ATLANTA, June 21, 2022 (Newswire.com) - Summer is here, which means that people are looking for new adventures. Just in time for National Camping Month, Travel Expert, TV Host and Author Meggan Kaiser shared tips to help make sure everyone has an enjoyable experience, whether it be visiting the national parks or camping in the backyard.
A GOOD PLACE TO START ANY TRIP
Consider the all-new BF Goodrich Trail-Terrain T A tire. It is engineered to ensure anyone can live life on their own terms, wherever the road takes them. Whether it is planning an outdoor adventure or camping trip, BF Goodrich tires encourages living life with a sense of exploration. These tires are built to last, competitively priced, and tested in some of the toughest conditions on Earth, making them a top choice for novice and experienced outdoor enthusiasts. For more information, visit www.bfgoodrichtires.com.
SOMETHING IMPORTANT TO PACK
New Duracell batteries with Power Boost ingredients are 'Engineered For More' to help get the most out of adventures this summer. Duracell is America's number one trusted battery; they are long lasting to help power all those outdoor adventures and the moments that matter most. They are the go-to battery because the Power Boost ingredients deliver more life in a wide range of devices or more power in others vs the previous coppertop. For more information, visit www.duracell.com
RECOMMENDATIONS FOR COMFORTABLE CAMPING
Skip the overpriced hotels or cancelled flights. Get a 5-star hotel on wheels through renting an RV or camper. A rental from Outdoorsy.com means everyone does not have to put travel on the backburner for the third summer in a row. With delivery options and low nightly rates, RV and camper travel can be an affordable option no matter what. Check out Outdoorsy.com, book that dream getaway, and hit the road.
MUST HAVES FOR CAMPING
Be prepared for bugs: Ecobuggy, a new and natural DEET free mosquito and tick repellent is a must have for all camping trips. This is the only repellent that offers longer lasting, safer, all natural protection. Get it at ecobuggy.com, for under $10 per bottle. It has a fresh fragrance and clinical tests have shown that its 100% plant-based, natural formula lasts three times longer than natural brands. It is safe around children, pets, fabrics and the environment. Check it out at www.ecobuggy.com
Contact: Tipsontv@gmail.com
Source: TipsOnTV.com