Travel Bans Aren't Canadian Insists Toronto's Glen Ames Senior Public School's "Walking Lead" Robotics Club
Award-winning student innovators ask Canadian PM Justin Trudeau and other influential Canadians to speak out against controversial school board bans on U.S. travel that limit innovation and STEM education
Press Release
-
updated: Jan 26, 2018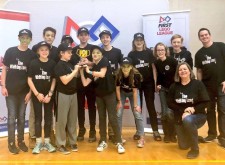 TORONTO, Canada, January 26, 2018 (Newswire.com) - ​​​​​​​​​​​​​Under pressure from high-school students who want to attend international educational and development opportunities, the Toronto District School Board will consider on Feb. 7 a recommendation from its governance committee to amend its blanket ban on student trips to the United States put in place in response to controversial U.S. policies aimed at non-Canadian citizens.
"We're responding to the student voice," committee chair Alexander Brown recently told the Toronto Star. "We want to show some flexibility. We don't want to limit their opportunities." But if​ accepted as currently worded, the motion will throw younger TDSB kids under the public policy bus by only allowing some high-school students to cross the border.
We are the Glen Ames Senior Public School's FIRST LEGO LEAGUE (FLL) robotics team. And we don't believe limiting freedoms in Canada is the best way to support individuals unfairly being targeted by the Trump ban. So, we are seeking support for #Don'tClipOurWings, a Change.org campaign to ensure all students in Canada are free to pursue any available educational opportunities. Please don't dismiss us just because we hail from grade 7 and 8, and don't make the mistake of seeing this as simply a local school board issue.
Maintaining Canada's economic health requires promoting early interest in STEM disciplines. As a recent report on this critical issue noted, a major concern of experts is "the lack of awareness among students and parents of the relevance of STEM to future education and employment opportunities." And yet, there is no need to worry about us. Proudly calling ourselves The Walking Lead, we regularly go to school early, stay late, and work through lunch to pursue our passion for technology and social entrepreneurship. We have put hundreds of hours into engineering and programming our competition robots, not to mention researching and developing the Royal Flush, a workable high-tech solution to a real-world problem: the presence of lead in school system drinking water.
In other words, with the support of our coaches and parents, we set an example for other young students, many of whom want to join robotics because it is exciting to compete internationally. "We are told not to let bullies win, but Canada is letting political issues with Donald Trump that are beyond our control limit our educational opportunities," says TDSB student Tea Reed Watson, "Our problem isn't interest in STEM education. It is the apparent lack of school board awareness of the relevance of international exposure to our development as high-tech innovators and entrepreneurs." 
Hard work has made The Walking Lead the most successful FLL team ever to represent the TDSB. Last year, members of our team were honoured to help Canadian Space Agency astronaut Jeremy Hansen unveil the Canadarm stamp just before heading to the FLL international open in California—where with the support of corporate sponsors like Royal Canin we placed second for innovation after presenting our PetPortion invention, a robotic pet feeder designed to prevent obesity and early death in dogs. This year, thanks to our table robots and Royal Flush invention, we beat the odds again and won the opportunity to represent our school, region and country, not to mention Canadian values, in international competitions for a second consecutive year. In the words of our team captain Colin King, being denied our right to excel on the world stage would "suck more than a Dyson vacuum."
On Jan. 17, school trustee Sheila Cary-Meagher invited us to present another TDSB committee with our case calling for a simple word change to the proposed travel ban amendment to eliminate the focus on high-school students. This was a last-minute thing, so we weren't on the agenda. Nevertheless, Sheila was certain we'd be given a few minutes to speak, which is all we needed. However, the committee voted 3-2 not to hear us. We understand trustees are busy, but it took the TDSB more time to decide whether or not to hear our case than we needed to present it. The school board's mandate is "to provide consistent, responsive representation of all TDSB students" and "help ensure students' needs and interests are met with the proper attention." And yet, our presence at this meeting was not even officially acknowledged. Instead, we were indirectly told to go away and think about putting something in writing. So, we left and launched #Don'tClipOurWings.
For the record, we don't support travel for any school team that can't bring all interested members to share the experience. But as the world's largest economy and our nation's largest trading partner, the United States remains a land of opportunity. And we are not afraid of risking being turned back at the border. We are entrepreneurs. Risk aversion is not our thing. After all, as we tried to explain to the TDSB, it limits innovation. We could just wait and see what happens when Canada's largest school board considers allowing U.S. travel for high school students. But we don't have time to start another amendment process. We need to raise trip money and book travel now. Please sign our petition to have the TDSB allow students of all ages to pursue educational and developmental opportunities without borders. And please promote #Don'tClipOurWings on social media to raise awareness for other students seeking travel ban amendments from other school boards.
Everyone should be free to soar.
MEDIA CONTACTS:
• Colin King, Captain, The Walking Lead (via parent Neil King, 416-258-4232 or neilking1@gmail.com)
• Tea Reed Watson, Innovation Head, The Walking Lead (via parent Thomas Watson, 647-285-3749 or wtwatson65@gmail.com)
Source: Glen Ames Senior Public School's "Walking Lead" Robotics Club
---
Categories: Economy, Entrepreneurship, Politics, Human Rights, Engineering, Education
Tags: First Lego League, Glen Ames Public School, STEM education, TDSB student travel ban, Trump travel ban, Walking Lead Robotics Team
---