Transatlantic Business Travel Specialist TakeTwo Launches Strategic Hub in Ireland
Press Release
•
Apr 26, 2022
TakeTwo's vision is to give Ireland-headquartered U.S. & U.K. organizations a tailored, unbiased and fresh alternative service offering to the traditional 'mega' global TMC players in the market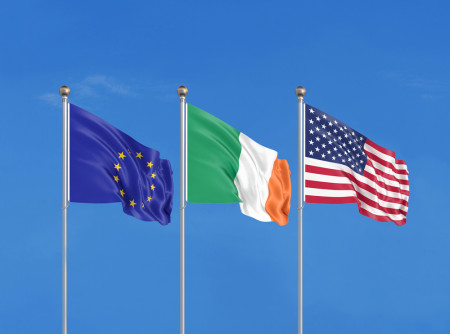 CORK, Ireland, April 26, 2022 (Newswire.com) - TakeTwo Travel Solutions (www.mytaketwo.com) has announced the launch of its customer-centric travel management services in Ireland. The move is a significant development for the start-up independent TMC, which fast-tracked its entrance into the U.S. market in November 2021. The investment gives TakeTwo a strategic hub for servicing its North American and UK client with an important foothold in Europe and the eurozone. TakeTwo is redefining the business travel landscape by giving Ireland-headquartered U.S. and U.K. organizations a tailored, unbiased and alternatively fresh service offering compared to that of the traditional 'mega' global TMC players in the market.
TakeTwo's launch in Ireland follows the acquisition and re-brand of CorporateTravel.ie in Cork. Heading up the business is travel industry veteran, formerly co-owner of CorporateTravel.ie, Paul Sexton in the role of General Manager. Sexton and his team have exciting plans for enhancing service options for existing and prospective clients in Ireland and across EMEA, as well as offering innovative new technology solutions, and specialist meetings and events services, with the support of TakeTwo's global and transatlantic reach.
Chris Thelen, CEO TakeTwo, commented: "I am very excited to officially launch TakeTwo in the Irish market. For a globally independent genuinely service-focused TMC like ourselves, with strong transatlantic links, having a hub in Ireland will open up great opportunities for providing our unparalleled service offering to our existing and prospective clients. With offices in New York, Los Angeles, Boston, Houston and London, TakeTwo is well-placed to service these clients. Additionally, Ireland gives us an ideal foothold into Europe, allowing us to access the eurozone for ticketing purposes and enables us to service customers in Euros, U.S. dollars and GBP."
Paul Sexton, General Manager, TakeTwo Ireland added: "I am delighted to be part of TakeTwo's vision and expansion in Ireland. It comes with great optimism and opportunity as TakeTwo already has a strong presence in North America. With a diverse international workforce and comprehensive global air connectivity, offering the only US pre-clearance facility in Europe, Ireland is an ideal hub for organizations seeking a European base. With approximately 800 U.S. companies operating out of Ireland or headquartered here, we're confident that there is huge potential for TakeTwo to grow our business in this market."
Source: TakeTwo Travel Solutions