TransAstra's FlyTrap Honored by TIME as a Special Mention in the Best Inventions of 2023
Press Release
•
Oct 24, 2023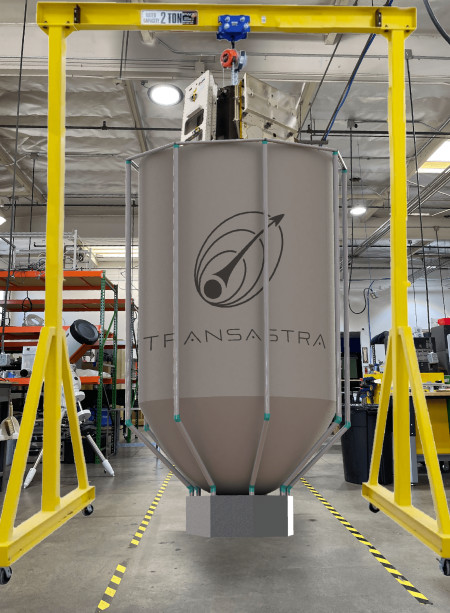 LOS ANGELES, October 24, 2023 (Newswire.com) - TransAstra, the groundbreaking space logistics startup, is thrilled to announce that its innovative product, FlyTrap, has received a special mention in TIME's prestigious list of the Best Inventions of 2023.
FlyTrap is a pioneering solution designed to address the growing issue of orbital debris. Its development underscores TransAstra's commitment to advancing space technology and ensuring that space remains a sustainable environment for all of humanity. This recognition by TIME solidifies FlyTrap's position as a game-changer in the world of space logistics and debris management. With its rip-stop inflatable bags, FlyTrap can enclose and secure a wide range of uncooperative targets; from cubesats to larger satellites to entire rocket bodies, its versatility in debris management is unmatched.
But its potential doesn't stop there. FlyTrap will play a pivotal role in TransAstra's planned asteroid mining missions. Due to its scalability, FlyTrap will be able to secure an asteroid as large as a small apartment building. These celestial objects can hold resources critical to the future of humanity in space. For example, just one such small asteroid can contain thousands of tons of water. Flytrap promises to revolutionize our ability to gather resources in space, allowing humanity to reduce the strain on the Earth's resources.
Dr. Joel Sercel, Founder and CEO of TransAstra, said, "FlyTrap is key to our vision for the future. As we set our sights on asteroid mining, the technology behind FlyTrap will be instrumental in ensuring our success and reinforcing our commitment to a sustainable space frontier." Dr. Sercel continued, "We are incredibly honored to have FlyTrap recognized by TIME. This acknowledgment is a testament to the hard work of our team and our vision for a cleaner, safer space environment."
TIME's Best Inventions list annually celebrates groundbreaking innovations that are making the world better, smarter, and even a bit more fun. To explore the complete list and learn more about FlyTrap's mention, visit TIME's Best Inventions 2023 https://time.com/collection/best-inventions-2023/6327156/transastra-flytrap/. Share your thoughts on this notable recognition using the official hashtag, #TIMEBestInventions. Follow and tag @TIME on Twitter, Instagram, LinkedIn, and Facebook to join the conversation.
For more information about FlyTrap or any of TransAstra's cutting-edge technologies, please reach out to missions@transastra.com.
About TransAstra
Founded in 2017, TransAstra is a U.S. orbital logistics and space mining company committed to advancing the industrialization and settlement of space through sustainable and ethical development of critical, dual-use space infrastructure technologies. With its headquarters in Los Angeles, the company has consistently spearheaded innovation, holds 11 patents and collaborates on solutions to address challenges in space exploration and logistics.
Source: TransAstra