Trained Autism Service Dog to Assist Six-Year-Old Child in Narberth, Pennsylvania
A six-year-old boy in Narberth, PA named Oliver received a very special Autism Service Dog delivery today from Service Dogs by Warren Retrievers.
Press Release
-
updated: Nov 2, 2017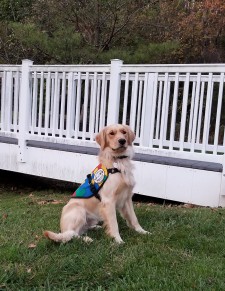 Narberth, PA, November 2, 2017 (Newswire.com) - Oliver, a six-year-old boy in Narberth, PA, received a very special Autism Service Dog delivery today from Service Dogs by Warren Retrievers. Based in Madison, Virginia, Service Dogs by Warren Retrievers, or "SDWR," has a mission to provide specially-bred and trained dogs for adults and children with invisible disabilities like Diabetes, PTSD, Seizure Disorders, or in the case of Oliver—Autism Spectrum Disorder. SDWR has nearly 600 service dogs working across the US and around the globe. SDWR is currently serving nearly 1,000 families.
Bohach, a golden retriever Autism Service Dog, has already received countless hours of training through SDWR's service dog in training raiser program where volunteers raise puppies in training for about a period of one year. The dogs and raisers must follow through the foundation and skill set training provided through SDWR trainers at the facility in Virginia. 
Bohach is also a very special graduate of the SDWR Fallen Officer Puppy Program. The Fallen Officer Puppy Program, or "FOPP", is an initiative by SDWR to honor the legacy of American police officers who have fallen in the line of duty. Bohach is named in honor of fallen police officer John C. Bohach, from the Reno Police Department, Nevada who died by gunfire in 2001. Officer Bohach was assisting other officers in setting up a perimeter outside a house following a pursuit when the suspect shot him in the chest. Oliver's Autism Service Dog work with Oliver will carry on in memorial of Officer Bohach's life of service and sacrifice.
Oliver was diagnosed at birth for Down Syndrome and at two years old on the Autism Spectrum. He also suffers from global dyspraxia, childhood apraxia of speech, developmental delay, and hypotonia. Oliver is fully dependent on adults for dressing, bathing, preparation of meals, and engaging in play. He requires constant adult supervision to keep him safe. "Disability most affects our family by all of us fearing for Oliver's safety. We advocate and push for Oliver's inclusion in all aspects of our lives however his physical limitations do make some activities difficult. We want for Oliver to have all the support he needs to live the most independent and happy life that he is capable of," states Oliver's mother, Brooke. Oliver's family began their search for an Autism Service Dog in order to provide more tools to cope with Oliver's every day difficulties. Bohach will also provide Oliver and his family with some additional peace of mind since one of their biggest concerns is that Oliver has no awareness of danger and he loves the outdoors and water.
Bohach will work with Oliver and his parents to provide practical and emotional support for issues like difficulty sleeping and remaining engaged in activities.  Since Bohach is a service dog and covered under laws in accordance with the Americans with Disabilities Act, he will be able to accompany Oliver and his family everywhere—from the park, to the nonprofit community center, even to the zoo or museum.  
SDWR will continue to work with Oliver's parents and Bohach, to train for specific needs they may have. What sets SDWR apart from other non-profit service dog organizations is this highly customized and tailored training program. SDWR trainers will continue to return for training sessions with Oliver, his parents and Bohach for the next 18 months every 3-4 months to continue developing Bohach's skills to best fit their lifestyle and Oliver's disability.
Service Dogs by Warren Retrievers is a non-profit organization based in Madison, Virginia, and relies on donations to help the Organization in its mission, "Until the Puzzle's Solved …there's a dog."  To make or donation or learn more about SDWR, please visit the website, http://www.sdwr.org. To learn more about Autism Service Dogs visit http://www.sdwr.org/service-dogs/autism/. To find out how you can volunteer with SDWR visit http://www.sdwr.org/volunteer-opportunities/.
Source: Service Dogs by Warren Retrievers
Share:
---
Categories: Non Profit, General Interest, Special Needs and Disabilities
Tags: Autism service dog, Dogs for children with autism, service dog for autism, Service dog for autistic child
---