Trademo, the Leading Global Trade Data Intelligence Provider, Adds Mexico Trade Data to Its Intel Platform
Press Release
•
updated: Jun 24, 2021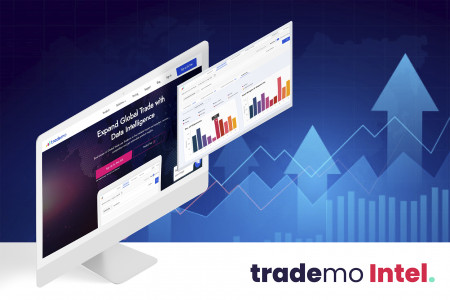 Palo Alto, CA, USA, June 24, 2021 (Newswire.com) - Trademo today announced that it has added Mexico trade data to the Trademo Intel platform. Considering the increasing relevance of Mexico in the global trade space and the game-changing role played by data intelligence in this industry, this launch comes at a crucial time for the international trade community.
Trademo Intel now offers in-depth insights into Mexico's trade landscape, with shipment-level data for entire Mexico Imports and Exports. This includes access to hundreds of millions of recent and historical trade transactions, monthly updates on data, detailed reports on all product categories and more.
This new data addition, along with seamless user experience and customized solutions, greatly enhances Trademo Intel's potential as a trade data intelligence provider. Needless to say, it now empowers businesses in Mexico and their global trading partners to expand their cross-border trade with the right intelligence.
As of March 2021 United States Census Bureau data, Mexico is the largest trading partner of the United States, accounting for 14.8% of the total U.S. trade. Mexico is increasingly gaining attention from the U.S. importers and exporters, given its large, diversified market, and a greater potential for further growth owing to its young population. Furthermore, it has enjoyed quite stable economic growth. Mexico is also seen as a natural market for U.S. exporters looking for expansion as it shares close social, cultural, and economic ties with the United States.
"Undoubtedly, Mexico, being the 16th-largest economy in the world, is an important market. We've tried our best to help our customers with enhanced visibility to Mexico trade data intelligence. We hope the insights provided by Trademo Intel allows them to explore greater business opportunities in a booming trade environment," said Shalabh Singhal, Founder & CEO of Trademo.
The addition of Mexico Trade Data intelligence has expanded the coverage of the Trademo Intel platform for North American Trade. Trademo Intel now offers:
Access to U.S. and Mexico Import & Export Data comprising 800+ million shipments.
70+ data points for each shipment.
Daily and monthly update of new shipment records.
Unlimited searches of companies, shipments, & products with advanced filters to further refine the search.
4 million+ Buyer/Supplier profiles with transactions, trading partners & product details.
Detailed HS Code level reports with price trends at port, state & trade-flow level.
Mexico trade data is available in Trademo Intel's subscription plans. For more information, visit: www.trademo.com.
About Trademo
With the aim to simplify global trade for businesses, Trademo has built a global trade data intelligence platform - Trademo Intel, a cloud-based platform available on a subscription model. It is powered with a Global Trade Knowledge Graph built by gathering and combining massive trade transactional, regulatory, corporate, and product data from different official sources. Trademo Intel is being used by several importers, exporters, logistics and consulting companies globally to make the most informed trade decisions.
Source: Trademo Technologies Inc.