TradeGecko's Latest Feature Gives Business Owners More Control Over Product Traceability
Press Release
•
updated: Mar 22, 2017
Batch and expiry tracking feature helps businesses manage product recalls, reduce discounts and spoilage, and open new sales opportunities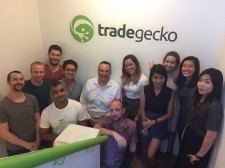 Singapore, SG, March 22, 2017 (Newswire.com) - ​​​TradeGecko, the industry leader and pioneer in inventory and order management software for eCommerce and wholesale businesses, today has announced the release of Batch and Expiry Tracking – a new feature on TradeGecko's inventory management platform.​
Julien Bompard, Director of Cuisine Service and TradeGecko customer, was at the TradeGecko office to launch the feature today. Julien has played a key role in taking TradeGecko's Batch and Expiry feature from rough sketches to completion, participating in numerous customer interviews and user tests.
The Batch and Expiry Tracking feature gives business owners greater control over product traceability - an area of critical importance to businesses in industries such as food and beverage, medical devices and supplies, electronics, and cosmetics.
"We've added Batch and Expiry Tracking to our platform to give our customers a more detailed and accurate view of their products across the entire supply chain," said Cameron Priest, Co-Founder & CEO of TradeGecko. "With Batch and Expiry Tracking, we want to help entrepreneurs move away from spreadsheets and stock-takes and focus on getting back to doing what they love."
Businesses in these industries need a simple and effective way to track products by expiry dates, or by when they are received, in order to avoid revenue loss attributable to discounting short dated products. This functionality is also crucial when it comes to managing the product recall process. TradeGecko customers, who require batch tracking, can save approximately 5 to 12 hours per week spent on managing product traceability with this new, intuitive and easy to use functionality. Several of TradeGecko's customers are already saving time and working more efficiently by leveraging these latest capabilities:
"Batch tracking is the function I need," explains Nerio, Founder of Dall'Italia Limited. "Now, everything is running perfectly."
"It maps out 100% of the business workflow," said Blair Crosbie, General Manager of The Vetservice Group.
"It's very useful to have all the data right at my fingertips," says Tony Gale, Supply Manager of Maui and Sons Europe, "It's so much faster to have all the data here instead of having to call someone to request it."
Save Time and Protect Your Business's Reputation During Product Recalls
According to research conducted by TradeGecko, an average business can easily spend over 100 hours on a single product recall. In the U.S. alone, there are over 2,500 recalls a year1. TradeGecko's new Batch and Expiry Tracking feature helps businesses manage product recalls effectively while maintaining positive relationships with customers, protect their business' reputation, and save valuable time in the process.
Reducing Discounts and Spoilage
TradeGecko's research also revealed that over three quarters of its customers had to discount expiring stock on a regular basis. With Batch and Expiry Tracking, TradeGecko's customers can more easily identify products nearing their expiry date, improve communication with their sales teams, and reduce discounts and spoilage.
Opening Up New Sales Opportunities
TradeGecko's Batch and Expiry Tracking provides business owners with enhanced product traceability, enabling them to sell to larger clients who often have strict traceability requirements.
Feature Availability
TradeGecko's Batch and Expiry Tracking feature is currently available to all customers on the Business, Business Premium, and Enterprise plans. Learn More.
A Robust Inventory Management Solution, Made Simple
​Based in Singapore, TradeGecko is a cloud-based inventory management platform for brand owners and distributors who want effortless commerce. Ideally suited for wholesalers, distributors and online retailers, the cloud-based software offers an intuitive and efficient solution to help overcome the complexities of managing inventory and orders while empowering them to become as fast and efficient as today's modern eCommerce businesses. TradeGecko's full-featured, real-time inventory management platform is the central core of business operations for modern merchants, providing seamless connectivity with all best-of-breed online services for accounting, eCommerce, shipping, operations and point of sale. For more information, please visit www.tradegecko.com
Follow @TradeGecko on Twitter and find us on Facebook, and LinkedIn.
Media Contact:
Genevieve Brock
TradeGecko Pte. Ltd.
Email: genevieve.brock@tradegecko.com
Phone: +65 8338 1865
https://www.tradegecko.com/press-kit
Sources:
1 http://www.inc.com/guides/2010/06/how-to-survive-a-product-recall.html
Source: TradeGecko