Trade School vs. Four-Year College: WyoTech Provides Guidance on Making the Right Choice
Press Release
•
Aug 7, 2023
Leading Automotive Trade School Recommends Considering the Differences in Costs, Debt, Potential Earnings and Job Availability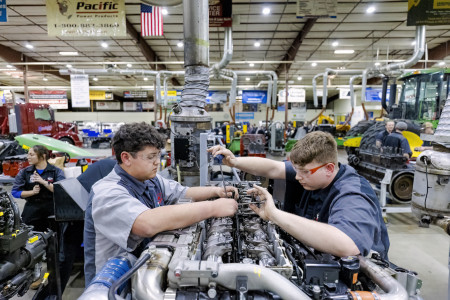 LARAMIE, Wyo., August 7, 2023 (Newswire.com) - As the cost of college skyrockets and the nature of work changes, students and their families are considering what kind of education makes the most financial sense. WyoTech, a leading automotive trade school, offers training programs that place graduates in the workforce in nine months, versus the time needed for a four-year college degree.
Post-secondary education of some kind is vital to career success. An estimated 70% of jobs will require post-secondary schooling, in either two- or four-year college programs or trade schools, by 2027.
To choose what kind of schooling to pursue, Wyotech recommends considering factors including desired career path, the cost of the educational program, the earnings potential and the availability of jobs post-graduation.
"If your objective is becoming a physician, engineer or lawyer, those degrees will take four years or more, and will be expensive," said Jim Mathis, President of WyoTech. "Trade schools can be a better fit for the right kind of student who wants to develop a skill, save money, enter the workforce sooner, and begin earning a good salary."
Recently released data shows that four-year college programs' costs are rising rapidly and most students are going into debt to pay for it.
Over the last three decades, tuition costs at public four-year colleges have risen from $4,160 to $10,740 per year and from $19,360 to $38,070 per year at private, nonprofit institutions. (Trade school annual tuition varies widely, but typically is about half that cost.) Now, more than half of all graduates of four-year colleges took out loans to pay for that education, and the average student loan debt is about $40,000.
At those lower costs, trade schools provide career training on a non-traditional path. Potential high-paying jobs for trade school graduates include automotive mechanic, electrician, firefighter, medical technician, diesel mechanic, and welder — all with average salaries of $50,000 to $80,000 a year, and sometimes surpassing this. Trade school graduates get a several-year head start in the job market, and with less debt burden.
Trade school graduates also are likely to see high demand for their skills. The trend of older trades workers retiring, the government's investment in infrastructure, and business investment in logistics have created millions of job openings. Trades also have proven to be more recession-proof when the economy lags.
"Families have many options to choose from when they decide on the best education and fit for their students," said Mathis. "When they weigh the complete picture of their financial well-being, they may find programs teaching valuable workforce skills as the ones that make the most long-term sense."
For more information on WyoTech's programs, please visit https://www.wyotech.edu.
About WyoTech
WyoTech, formerly known as Wyoming Technical Institute, is a for-profit technical college founded in Laramie, Wyoming, in 1966. WyoTech provides training programs that prepare students for careers as technicians in the automotive and diesel industry with nine-month training programs that focus on hands-on experience.
Source: WyoTech
Related Media