Tracking Farm Maintenance Just Got a Whole Lot Easier With the TractorPal App
Press Release
•
updated: May 3, 2017
TractorPal is an inventory and maintenance manager for Android and iPhone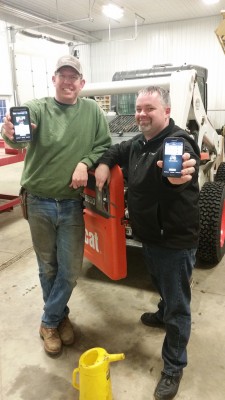 Volga, South Dakota, May 3, 2017 (Newswire.com) - TractorPal, LLC is pleased to announce the New TractorPal Version 2.0 is now available from the App Store and on Google Play for free.
TractorPal version 2.0 is rebuilt from the ground up on an all new platform to run quicker and add features you wanted.
TractorPal keeps inventory and maintenance records for all agriculture machines and attachments, including cars and trucks. Users are also able to email all records to service dealers or potential buyers. Built by farmers in South Dakota for farmers all over the world, this app will simplify machine care in three ways:
Track Inventory:
Log all of large and small machinery and automobiles, including tractors, pickups, lawn mowers, cars, combines, sprayers, loaders, skid loaders, backhoes, attachments, and more. TractorPal can track each item's serial number, model year, purchase date and price, original miles/hours, and users can even save a picture of items.
Track Service and Receive Reminders:
TractorPal simplifies the record-keeping process. TractorPal records each item's maintenance (e.g., changing oil, filters, tires, and irregular repairs), and will remind users when service is required. Users can even set their own reminder intervals. This app will even record the part numbers used!
Email Records:
Ever walk into the dealership and ask for all the filters for a machine, and they ask for a serial number or the part number? Now, all that impossible-to-remember information will be stored in a user's phone. Just email or show your phone to the parts person; it's that easy! With the service records at your fingertips, TractorPal makes selling a machine easier, whether the buyer is down the road or across the nation. With TractorPal this information is ready to go. Simply click 'email report ' and send.
TractorPal has already been talked about in the USA, Canada, Australia, Netherlands, Ireland, India, South Africa, Denmark, and more. It has also been downloaded over 30,000 times.
Download for free right now on your Android device, iPhone, iPad, and iPod Touch.
Apple Download ~ Android Download
Media Contact
Keith King
605-691-9233
keith@tractorpal.com
Source: TractorPal, LLC
Related Media
Related Files