Trace Minerals Launches 'Trace Gives Back' Program; Completes First Service Trip
Press Release
•
Sep 15, 2023
In line with its mission to improve people's health and wellbeing, the Trace Minerals team donated their time and resources to Matabeleland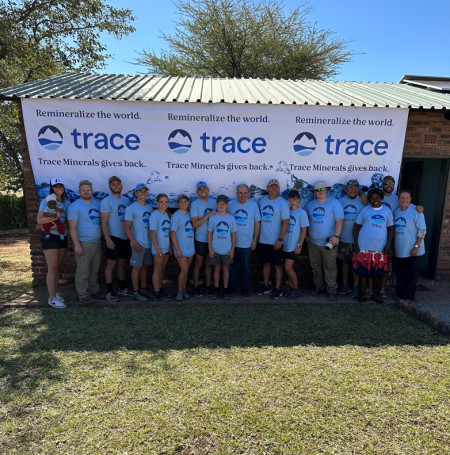 OGDEN, Utah, September 15, 2023 (Newswire.com) - Trace Minerals, America's number one selling trace mineral, liquid magnesium, and performance nutrition brand according to SPINS® and the leading provider of trace mineral-based supplements for over 50 years, today announced the official launch of its "Trace Gives Back" program. Through this initiative, Trace Minerals is taking its commitment to improving people's health and wellbeing one step further by giving back to communities in need.
To kick off the program, Matt Kilts, co-owner and CEO of Trace Minerals, and Steve Reeves, president of Trace International, traveled to Matabeleland, a region in Zimbabwe, for a service trip. During this two-week period, Kilts and Reeves helped with multiple humanitarian projects. Their primary focus was to provide residents with access to clean water by obtaining a water well drill rig and helping set up access to this new water source. Aligned with Trace Minerals' mission to remineralize the world, Kilts and Reeves also supplied residents with bottles of ConcenTrace®.
Additionally, the team donated clothing and shoes and assisted at an elementary school, where they:
Helped install a new playground set and solar roofing
Initiated a monthly teacher allowance to supplement salaries
Donated a motorcycle to a teacher in need of transportation
Began a student endowment fund
"I want to thank our fearless leader, Matt Kilts, for making it possible to give back to the Matabeleland community so generously. An incredible start to our new 'Trace Gives Back' program, we were truly humbled by this experience," said Reeves. "I look forward to participating in additional initiatives as we strive to make a positive impact on people around the world."
This volunteer trip marks the first of many "Trace Gives Back" initiatives. The team plans to continue setting up water wells, improving access to education and promoting healthy lifestyles and remineralization.
For more information on Trace Minerals, visit https://www.traceminerals.com/.
About Trace Minerals
For more than 50 years, Trace Minerals has been committed to helping people remineralize their bodies, achieving and maintaining the ideal level of trace minerals that is just right for them to live better every single day. Trace Minerals is America's number one selling trace mineral, liquid magnesium, and performance nutrition brand according to SPINS® and is the exclusive provider of ConcenTrace® Trace Mineral Drops, a concentrated seawater complex that contains a precisely proportioned, full spectrum of trace minerals and elements.
ConcenTrace is the basis for all products in the company's branded line, which is backed by a "Feel the Difference or Your Money Back" guarantee. Trace Minerals has been GMP (Good Manufacturing Practices)-certified since 2004, is a registered member of the Global Retailer & Manufacturer Alliance, and is certified by UL® Registrar LLC under the standard ANSI 455-2 Good Manufacturing Practices (GMPs) for Dietary Supplements.
Source: Trace Minerals