Toynk Toys Announces Upcoming Release for Smithsonian T-Rex Fossil Replica
Press Release
•
updated: Nov 26, 2019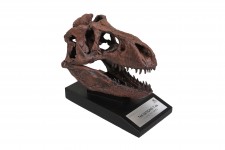 The Specimen USNM 555000 replica is hand-painted and fully licensed by the Smithsonian Institute
Available for purchase December 2019 at Toynk.com
ADDISON, Ill., November 26, 2019 (Newswire.com) - Toynk Toys has officially announced the upcoming release for one of its most highly anticipated replica pieces: The Smithsonian T-Rex Skull Fossil Statue - Specimen USNM 555000.
Specimen USNM 555000, also known as "the Nation's T. rex," was discovered on federal land in 1988 by Montana rancher Kathy Wankel. A team of paleontologists from the Museum of the Rockies in Bozeman, Montana, led by paleontologist Jack Horner, excavated the fossil from 1989 to 1990. It was then transferred to the Museum of the Rockies by the U.S. Army Corps of Engineers for preparation and eventual housing at the Smithsonian National Museum of Natural History, where it resides today. It is one of the largest and most complete T. rex specimens ever discovered, with 80–85 percent of the skeleton recovered.
In partnership with the Smithsonian Institute, Master Replicas Group has created an extremely accurate polystone resin replica of the USNM 555000 skull fossil through the use of advanced 3D-scanning technology. This process enabled MRG to capture all of the detail of the original specimen and present it to collectors, dinosaur enthusiasts, and educators in the form of this amazing 1/10th scale replica.
The replica is currently available for pre-order at www.toynk.com and will be available for purchase in December 2019.
Source: Toynk Toys
Tags
Additional Links