Townsend Home Sales Launches New Website Showcasing New Features With Latest Innovations in Manufactured Home Technology
Press Release
•
updated: Dec 18, 2018
The leading source for manufactured, modular and park model homes is taking its platform to a whole new level of customer service and convenience at https://www.townsendhomesales.com/. Its exceptional website features are enhancing the experience of house hunting while encouraging a smooth and easy buying process for customers.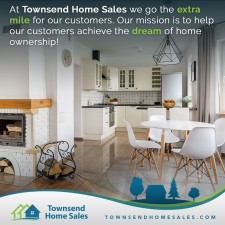 TAMPA, Fla., December 18, 2018 (Newswire.com) - Townsend Home Sales recently launched a brand-new website utilizing the latest real estate technology and exceptional site-design features to provide customers with an enriching home-buying experience. The site features a number of user-friendly tools such as 3D virtual tours, interactive videos and photography that exhibit the homes in the highest quality possible.
The website allows customers to instantly view featured homes for sale and the latest signature series models right on the homepage for easy access. The information offered online includes a model homes' number of bedrooms and bathrooms, square footage, amenities and location.
When viewing a multitude of listings, buyers are able to use a "Compare" feature which allows up to four homes, along with their listing information, to all be viewed at once in a simple, organized fashion. The new feature aids buyers in making proper manufactured home buying decisions by comparing homes in a side-by-side viewer.
At the top of the page, the site features an "Advanced" search, which allows buyers to narrow down and identify a specific type of home they are looking for. Buyers have easy access to search for a home that fits their lifestyle and community needs. With the advanced search bar, users can select options such as the home's status, the number of bedrooms and bathrooms, minimum and maximum square footage, and price range.
Another notable update to the website includes 3D virtual tours on every Townsend's home for sale. A buyer can browse and view a tour online from anywhere around the world and preview available listings in full-screen and high-definition quality. The virtual tours are available in a "dollhouse" point of view, as well as looking inside the house and at its floor plan.
With a 360-degree view of every room - fully furnished and amenity-rich, buyers can virtually "walk through" a home for the ultimate viewing experience. The 3D tours also offer homes to be viewed in virtual reality, as it is compatible with VR headset options upon request.
Along with these features, the website provides easy access to contact a sales agent. Townsend strives to go the extra mile for their customers and that is why speaking to a representative is made convenient and simple. Potential buyers in need of extra assistance can fill out a quick survey form with their questions or concerns and send files through a secured transfer portal via desktop or mobile.
The launch of Townsend Home Sales' website goes above and beyond for its buyers to make shopping for a manufactured home convenient and enjoyable. Townsend Home Sales prides itself on producing the ultimate customer service experience in manufactured and modular home buying. Townsend Home Sales offers new or used manufactured, modular and park model homes and enhances the home-buying experience online.
To learn more about Townsend Home Sales' website, visit https://www.townsendhomesales.com/.
For media or press inquiries, please contact media relations liaison Claudia Tran at marketing@summit-communities.com.
About Townsend Home Sales
Townsend Home Sales is the leading source for manufactured, modular and park model homes that serve a variety of communities, including age-restricted, family and resort. Townsend's mission is to help their customers achieve the dream of home ownership, at affordable pricing. Whether interested in buying or renting, Townsend will help find the perfect home.
Contact a Townsend representative today at 866-309-8167 or for more information about home buying, visit https://townsendhomesales.com/.
Source: Townsend Home Sales
Tags
Additional Links