Towing Industry Gets Ready for Second Annual 5K Run
The Run for the Fund 5K will benefit the towing industry's Survivor Fund
Press Release
-
updated: Aug 13, 2019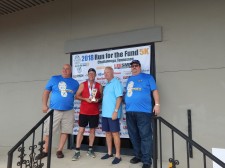 CHATTANOOGA, Tenn., August 13, 2019 (Newswire.com) - The International Towing and Recovery Hall of Fame and Museum will hold its second annual 5K Run for the Fund benefiting its Survivor Fund on Sunday, Oct. 13, at 8 a.m.
Chattanooga-based Lee-Smith Inc., a commercial truck dealership that has been a part of the Chattanooga community since 1939, returns as the 5K's gold sponsor.
"Lee-Smith is pleased to be the title sponsor of the Run for the Fund 5K," says Dayton Shepard, executive vice president of Lee-Smith. "Once a year people from around the globe gather in Chattanooga, the birthplace of the towing industry. During that week in October, the industry honors those who have lost their lives while serving others, recognizes industry leaders for their accomplishments, and promotes efforts to create awareness of the 'Move Over' laws."
Shepard added: "This fun event supports and promotes these missions. As a local, Chattanooga family-owned company, we are excited we can again support the industry through this event."
A recent national study indicated the fatality rate in the towing industry is 15 times greater than for other industries. The Towing Museum estimates the industry loses 60 operators annually, with hundreds injured, while handling towing and/or recovery calls. The organization responded to the crisis by establishing the Survivor Fund in 2005 to provide immediate financial support to families of towing operators who lose their lives in the line of service.
"The second year of the Run for the Fund is an exciting time for us at the museum," said Jeffrey Godwin, head of the Survivor Fund. "We know we will have more participants and we are already seeing some terrific support from both the Chattanooga community and from within the towing and roadside industries."
In addition, this year's donations will be matched by Bobby's Law, named for Bobby Unruh of Tucumcari, New Mexico, who was killed by a distracted driver while attempting to tow a commercial vehicle off the interstate. Linda Unruh, former tow company owner and Bobby's mother, later successfully lobbied to change New Mexico's Slow Down-Move Over law to include tow truck drivers. She continues to advocate for drivers to slow down and/or move over nationwide.
"I want change for the betterment of our industry. My passion is to make a difference for tow
operators and first responders," Linda Unruh told Tow Times magazine.
The 5K Run for the Fund welcomes walkers and runners to support the Survivor Fund. The race is chip-timed and the course starts and ends at the Towing Museum, 3315 Broad Street, following the nearby Tennessee Riverwalk. Each finisher will earn a Finisher's Medal.
Last year's 5K winner was Paul Rutherford, a tow truck driver for Cedar Bluff Towing Inc., Knoxville, Tenn., who is a marathon runner – he has run in over 200 races – and is a cancer survivor. "I'm a run-a-holic," he said.
Rutherford's advice to tow truck drivers and operators, who often lead sedentary lives, is to "get out and do something fun in your life."
For details on the Run for the Fund 5K, contact Brenda Faulman, 407-936-2494 or brenda@towtimesmag.com.
To learn more about the Survivor Fund, contact Jeffrey Godwin at JeffreyG@fleetnetamerica.com.
Source: International Towing & Recovery Hall of Fame and Museum
Share:
---
Categories: Trucking
Tags: 5K Run for the Fund, Bobby's Law, International Towing Museum, Museum Weekend
---