Touchstone Announces Cloud-Based VoIP and Unified Communications Testing Solutions
Powerful and affordable solutions for your short and long-term testing needs
Press Release
-
updated: Jul 25, 2017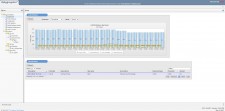 Hatfield, PA, July 25, 2017 (Newswire.com) - Touchstone Technologies announces the availability of its award-winning voice and unified communications testing solutions in a hosted model.  Whether your needs are active testing or passive monitoring, short-term or long-term, we have a configuration that can meet your requirements and budget.
Intellimarc, Touchstone's widely-deployed voice and UC monitoring and diagnostic solution provide an in-depth view into your network's performance providing nearly 200 metrics covering every KPI necessary to determine the quality of voice and video sessions. Intellimarc monitors the calls on your network in real time and can be configured to send alerts and alarms based on the rules that you define. Intellimarc's intuitive user-interface allows you to view trends over a user-defined period of time, search for specific calls and call details, search for calls by QoS attributes, search through alerts and alarms, manage sites, identify top talkers and hosts and much more. Intellimarc "probes" (software agents) can be deployed on servers or in virtual machines and run on Linux or Windows. Intellimarc can monitor calls on and communicate on IPv4 or IPv6 networks.
WinSIP, Touchstone's popular active testing solution is capable of generating large volumes of SIP sessions with both voice and video streams. WinSIP's intuitive user interface allows you to spend more time testing and less time configuring the tests.  WinSIP allows you to easily customize SIP messages and call flows using an intuitive XML scripting language or to test standard SIP call flows using its internal SIP stack.  Ideal for volume testing and feature/function testing, this configuration allows you to test from the outside in; providing a real-world view of how your network performs from the caller's perspective.  You can also pair a hosted WinSIP with an internal WinSIP to test end-to-end scenarios and conduct load-bearing tests on your communication networks.
To learn more about Touchstone's voice and UC testing solutions or to schedule a web demo, please feel free to contact us at info@touchstone-inc.com or give us a call at (267) 222-8687.
Source: Touchstone Technologies
Share:
---
Categories: Cloud computing, Telecommunications, Voice Over IP and Telephony
Tags: Cloud, Networking, SaaS, Unified Communications, Video, Voice, VoIP
---