Tossed is Giving Texas a Fresh Taste
Press Release
•
updated: Jan 22, 2019
Coming to San Angelo Early 2019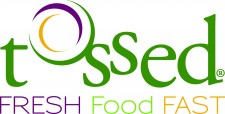 BOCA RATON, Fla., January 22, 2019 (Newswire.com) - ​​​​​​​Life is all about experiences: experiencing new places, new adventures and new foods. Tossed believes that every visit gives guests a new experience on flavors and fun. Life is too short not to eat great food.
At Tossed, they understand that guests should know what's in their food and where it's from. Truthful, honest and delicious is how Tossed approaches their menu, from where the food is sourced, when it was made, what's in it and information regarding nutrition. Tossed wants guests to KNOW about their food and one thing is certain, guests seem to KNOW it's delicious. The goal is to provide guests with all the information and choices needed to design their own custom creations.
At Tossed, guests are encouraged to be "the chef." Why eat what everyone else is eating? Guests are encouraged to personalize their meals with design-your-own options. Why is this a passion point for Tossed? Because it's the guest's experience, it should be exactly what they want. Not sure what to create? Tossed has everyone covered. The Tossed team has some of the most popular pre-designed offerings which they will make for the guest. The great part is the guests get to choose.
Tossed is pleased to announce its newest franchiser partner Yassas San Angelo L.P. (dba Tossed San Angelo) is preparing to open their first Texas location. Tossed, whose brand motto, is FRESH Food FAST, offers a wide variety of design-your-own options including salads, hot bowls, wraps, soups, pitas, sandwiches, smoothies and more. The San Angelo location is slated to open in early 2019 just in time to kick-start a healthier start to the new year.
"In today's retail and entertainment environment, people are looking for more than just a transactional purchase. Consumers are seeking positive experiences and personal attention. The Shops at Stadium Park are striving to be San Angelo's premier venue to dine, shop and play, with an emphasis on specialty shops and quality service. The Tossed experience is refreshing and is designed to promote personal interaction, connection with the community and a healthier lifestyle. Adding Tossed to our community of locally owned specialty merchants just makes sense," said Mary Jane Steadman, both the property manager for The Shops at Stadium Park and an investor in Tossed San Angelo.
"We also see an opportunity to position our franchise partners as the primary go-to, delicious fast-casual concept for delivery and catering, which works well in all markets and especially in the smaller markets. In the end, it's all about our guests," said Matt Boyer of Tossed.
Tossed San Angelo will focus on connecting with the local community through a diverse catering menu and delivery options. "We are also offering a military discount to our service members and working with the educators in the area to serve up healthy and varied options. We are thrilled to be the first franchise partner in Texas and even more excited to bring this new concept to our friends, family and community members in San Angelo," said Kevin Kent, Tossed San Angelo's operating partner.
Tossed CDO A. Michael Toroyan commented, "We're focused on delivering our guests a quality experience at a value that makes sense. Our custom cuisine prepared in just minutes gives guests more time to spend relaxing. We truly care and we're proud to focus on our people, meaning our devoted guests, our employee team, franchise partners and our vendors. Our focus is on sincerely building a 'people-centric' culture and we expect great things will result."
About Tossed. Tossed is the home of design-your-own salads and hot bowls featuring dozens of ingredients and unique dressings. Tossed also offers pitas, oven-roasted sandwiches, wraps, soups and smoothies along with an array of breakfast items. Tossed is growing to include restaurants across the United States. Tossed Franchise Company LLC, based in Boca Raton, Florida, offers franchises to companies and individuals. If interested in learning more about Tossed and franchising opportunities, visit our website: Tossed. For media inquires, please contact amt@tossed.com​.
Source: Tossed Inc.
Related Media
Additional Links