Toss Raises $40 Million From GIC and Sequoia China
Press Release
-
updated: Jun 18, 2018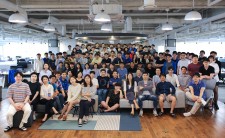 SEOUL, South Korea, June 18, 2018 (Newswire.com) - ​​​​​​​​​​​​​​​Viva Republica, Korea's foremost fintech startup and maker of financial services app Toss, announced today that it has completed a $40 million round of funding from GIC and Sequoia China, bringing the company's total amount of funding raised to $116 million.
Started as a P2P money transfer service in 2015, Toss has now expanded into a platform providing a full suite of financial services, allowing users to easily manage every facet of their daily financial lives. Beyond money transfers, users can now conveniently utilize an array of consumer finance services within a single app, including a financial dashboard, credit score management, customized loan/insurance plans, as well as multiple investment services.
With more than 8 million registered users, a customer base that has nearly doubled from a year ago, Toss is expected to process over $17 billion in transaction run-rate and has a total trackable monthly transaction volume of about $10 billion.
"Toss' evolution as a mobile financial services platform is very impressive. In addition to a seamless user experience and robust technology stack, the company's monetization strategy and revenue growth are also remarkable. In Toss, we see all the signs of a successful company that we've witnessed in our portfolio - companies that have grown to become Asia's leading unicorns. We strongly believe that Toss will dominate the Korean market and become a fintech giant," said Glen Sun, Partner of Sequoia China.
This funding is GIC's first investment in a startup in Korea and Sequoia China's first investment in a Korean company. With this bridge funding round, Viva Republica will gain significant momentum in accelerating its growth and enhancing product development.
"We are proud and honored to become partners with GIC and Sequoia China - some of the world's most prominent investors. This bridge round is a strategic investment which will enable us to explore major opportunities such as investments and acquisitions to become the go-to service for all consumer financial needs while providing superb user experience," said SG Lee, co-founder and CEO of Viva Republica.
Media Contact
Kylie Yoon
Phone: 82-10-8937-7222
Email: kylie.yoon@toss.im
About Viva Republica
Founded in 2013, Viva Republica launched Korea's first P2P money transfer service Toss in 2015. The platform has become one of the world's fastest growing financial apps, with a transaction run-rate of $17 billion. Complementing its P2P money transfer and payments system, Viva Republica's Toss now delivers a full suite of financial services including a financial dashboard, credit score management service, and investment products. The company was ranked 35th in KPMG's 2017 Fintech 100. Based in Seoul, Viva Republica is backed by many high profile global investors including GIC, Sequoia China, PayPal, Bessemer Venture Partners, Goodwater Capital and Altos Ventures.
About GIC
GIC is a leading global investment firm established in 1981 to manage Singapore's foreign reserves. A long-term value investor, GIC is uniquely positioned for investments across a wide range of asset classes, including equities, fixed income, private equity, real estate and infrastructure. GIC has investments in over 40 countries and has been investing in emerging markets for more than two decades. Headquartered in Singapore, GIC employs over 1,400 people across 10 offices in key financial cities worldwide. For more information about GIC, please visit www.gic.com.sg.
About Sequoia China
The Sequoia team helps daring founders build legendary companies. In partnering with Sequoia, companies benefit from our unmatched community and the lessons we've learned over 46 years working with Apple, Cisco, Oracle, Google, Alibaba, Airbnb and JD.com among many others. As "The Entrepreneurs Behind The Entrepreneurs," Sequoia China focuses on four sectors: TMT, healthcare, consumer/service, and industrial technology. Over the past 13 years we've had the privilege of working with more than 500 companies in China. For more information, visit www.sequoiacap.com/china/en.
Source: Viva Republica
---
Categories: Investments, Entrepreneurship, Emerging Businesses
Tags: Financial service, Fintech, GIC, Korean startup, Paypal, Sequoia, Sequoia China, South Korea, startup, Toss
---
Related Files
Additional Links