Toronto's Giggly Panda Baby Spa Begins Franchising in North America
Giggly Panda Baby Spa offers a unique experience in a safe and clean environment, hydrotherapy and massage therapy for babies, mom and baby massage therapy, and a chiropractor for the whole family.
Press Release
-
updated: Mar 3, 2019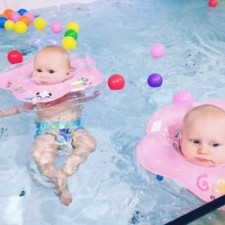 TORONTO, March 3, 2019 (Newswire.com) - Giggly Panda Baby Spa is a fast-growing business in North America. As parents today became more educated about the health of their babies' physical development and emotional well-being, Giggly Panda Baby Spa offers hydrotherapy and neonatal massage. These are groundbreaking developmental techniques which provide several mental, emotional and physical benefits for babies.
Early introduction to the water offers enhanced opportunities for learning skills that help transition young children into formal schooling. On average, infants with an early introduction to water were ahead of their peers in cognitive skills like learning, thinking, math and problem solving on preschool entrance testing five years later; innate swimming reflexes are stimulated, and coordination is developed as they learn to control their movements.
Baby's Physical Development
Neonatal swimming can accelerate babies' growth in the early stage.
As the baby kicks around in the water, the small rocking waves she/he creates will help to improve their balance and coordination and, ultimately, support their ability to crawl, walk and swim. Even if the baby falls asleep in the water, the rocking will continue with her/his rhythmic breathing.
Baby hydrotherapy Increases gains in functional mobility as babies learn to control their movement.
Movement through the water has a positive effect on the digestive and circulatory systems, which can reduce meconium levels and lower the risk of jaundice three or four days after birth.
Muscular and skeletal strength is increased through the water's gentle resistance.
Water pressure on the chest can increase lung capacity.
Hydrotherapy provides a complete physical workout, strengthening the baby's heart and lungs by strengthening intercostal muscles and the breathing system.
Massage therapy leads to weight gain in pre-term infants. Massage therapy has led to weight gain in preterm infants when moderate pressure massage was provided. The increases noted in vagal activity, gastric motility, insulin and IGF-1 levels following moderate pressure massage are potential underlying mechanisms.
Baby's Emotional Well-being:
Baby hydrotherapy improves socialization. It strengthens baby's capacity to communicate and enhances feelings of trust and confidence. Our methods encourage the use of all senses, and support feelings of being loved, respected, and valued.
Introducing babies to the natural magic of water helps prevent a fear of water developing later on, boosts confidence and enhances their well-being.
Baby hydrotherapy improves sleep quality especially among pre-term infants.
As the baby transitions from life in the womb to the outside world, positive touch through massage helps them to feel secure. Neonatal massage instruction significantly decreased paternal stress
Both massage and hydrotherapy in warm water are efficient methods for reducing pain and discomfort caused by gas, colic, bloating and constipation. They are known to reduce muscular tension, growing pains, teething discomfort, and cramping.
BENEFITS FOR PARENTS
Promotion of parent-child bonding and secure attachment. This, in turn, facilitates their emotional and cognitive development (i.e., ability to learn)
Providing quality bonding time for parent and baby via interaction, relaxation, observation, and communication
Improved parenting skills leading to improved self-esteem and confidence and assist with post-natal depression.
Socialize with other parents and exchange advice.
Giggly Panda Baby Spa cares about the whole family wellbeing, so they introduced this year mom and baby massage therapy as well as chiropractor service for the whole family.
Giggly Panda Baby Spa has started to franchise all over North America in the U.S. and Canada. If interested in reserving a Giggly Panda Baby Spa location, fill out the franchise form on the website now. https://gigglypanda.com/franchising/
References:
Source: Giggly Panda Baby Spa Inc.
Share:
---
Categories: Healthcare
Tags: baby spa, baby spa Canada, baby spa montreal, baby spa oakville, baby spa toronto, baby spa vaughan, chiropractor, chiropractor for babies, infant massage, Massage Therapy, mom massage, new mom
---