Topbit Website Offers Free Real-Time Chart and Prices of All Major Cryptocurrency Exchanges
Cryptocurrency traders can use Topbit to see the exchange rates on more than 49 cryptocurrency exchanges.
Press Release
-
updated: Jun 6, 2018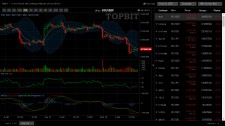 SEOUL, South Korea, June 6, 2018 (Newswire.com) - A new website, Topbit.io, has launched to offer users a real-time chart and prices of 6,500 coins and 1,200 cryptocurrencies. The site uses Big Data processing technology and is free to all. This site allows users to see 49 cryptocurrency exchanges from around the world to see exchange cost for trades based on the currency of their choice. The goal is to help market members make better decisions about their cryptocurrency trades.
Since 2013, more than 1,500 cryptocurrencies have emerged and close to 600 of them are currently traded on exchanges. The exchanges allow users to buy and sell cryptocurrencies. The exchanges though only provide charts for buy and sell transactions without providing a strategy to determine which cryptocurrencies are most advantageous for trades based on exchange rates.
"The greatest advantage of Topbit is anyone can check the price difference of cryptocurrency on each exchange in real time and for free," says Shan An, creator of Topbit. "The site is currently optimized for both personal computers and for mobile devices, so users can look even on the go."
Topbit will be branching out to more than 20 nations including China, Japan, the United States, and those in Europe. In the future, Topbit is planning to upgrade to provide users automatic purchasing process so that they can purchase based on expert strategy, user-specified/desired condition strategy, or transactions to be triggered once selected conditions are satisfied.
"By utilizing the substantial information that we have, we aim to build a risk-free, real-time trading notification system," adds An. "When the trading notice system is created, we will offer to our clients for free. It will permit users to track trade volumes and price distinction examination between cryptocurrency exchanges with the goal that market users can utilize Arbitrage (hazard unhindered commerce exchange)."
To learn more about the Topbit's real-time cryptocurrency charts and prices, visit Topbit.io.
About Topbit Co. Ltd
Topbit Co. Ltd. is an internet portal service provider for cryptocurrency. It is a specially designed website that brings information from 65 cryptocurrency exchanges from around world as a real-time. It is implemented by big-data processing technology. To learn more, visit Topbit.io.
Media Contact
Shan An
Email: shan1019@topbit.io
Phone: 82 10 8887 4680
Source: Topbit Co. Ltd
---
Categories: Internet and Streaming Media
Tags: bitcoin, etereum, topbit, topbit.io
---