Top 40 Los Angeles-Based Musician Gotaflika Will Release His First LP Next Month
Gotaflika Press Release New single: Nonstop Album's name: Go Up Upcoming Album Release: Friday, November 15th
Press Release
-
updated: Oct 29, 2019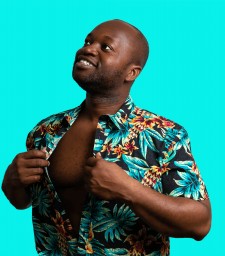 LOS ANGELES, October 29, 2019 (Newswire.com) - Pop-reggae fusion artist Gotaflika is on the verge of releasing "Go Up", a new album, to fans (out on 11/15). This album is the exciting culmination of his work, which in the past has included an EP and several singles that have helped the singer/songwriter establish his identity in the music industry. He'll be celebrating his first LP with an exclusive album release party on Nov. 8.
After the album's single, "Nonstop", dropped in September, it's been getting positive attention around the world, and fans have streamed the song in 34 countries. It marks a breakout style for Gotaflika, who has always embraced his reggae and afrobeat influences. This song incorporates an electronic pop sound without abandoning his roots, and the album will continue in this direction.
After the album's release, Gotaflika will be touring the U.S. throughout 2020.
Bio:
Born in Ghana, the seventh child in an impoverished family, Gotaflika's life has been shaped by change and movement. He has been making music his whole life, and that passion followed him to America. He has had the chance to perform with DEV (of 'Like a G6' and 'Bass Down Low') at the Rose in Pasadena. He has been named the #1 reggae artist in Los Angeles, and recently made the Top 40 list for all genres in Los Angeles.
Gotaflika is passionate about using his platform as a musician to shed light on the ongoing water crisis in many countries. 1 out of 9 people lack access to safe drinking water, and 1 out of 3 people lack access to a toilet. This affects daily life for millions of people worldwide, a struggle that Gotaflika has experienced firsthand, as a child in Ghana. He has partnered with water.org, and a portion of all of his profits is dedicated to ending this crisis. He believes that when people join together for a cause, they can change the world.
His fan base has embraced this mission, and Gotaflika has been able to consistently contribute to the cause.
Please get in touch with Bethany, at bethany@finaltouchmedia.net, for a guest list, interviews, or promo records and merch.
Website: Gotaflika.com
Instagram: @gotaflika
Facebook: @gotaflikamusic
Source: Gotaflika
Share:
---
Categories: Music
Tags: african, african culture, apple music, dancehall music, independent artist, music, new music, pop music, reggae music, spotify, youtube music videos
---
Related Files
Additional Links