Top 10 Jungle Issues New Peak Lending Report Based on $3.8 Trillion in US Consumer Debt
Top 10 Jungle provides debt consolidation and debt relief comparison charts as a free service to consumers.
Press Release
-
updated: Jan 9, 2018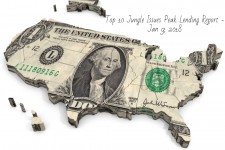 DALLAS, January 9, 2018 (Newswire.com) - Top 10 Jungle, a Dallas-based provider of slick digital content and top 10 product reviews, releases its latest Peak Lending Report.
"US consumer debt is out of control," said Ian Manning, Top 10 Jungle Analyst, "Consumers are optimistic about the economy and they aren't shy about showing it. Based on the latest Federal Reserve data, U.S. consumers ran up $28 billion in new debt on credit cards, auto loans, student loans and other debt."
Consumer spending accounts for almost 70 percent of the economy. The Fed reported an 8.8 percent increase in consumer borrowing to over $3.8 trillion. These numbers do not include home mortgages or any other loans secured by real estate. The past two years has shown the American consumer willing to borrow more while the modern social and online lending platforms willing to take greater risk.
Top 10 Jungle reports on companies and collects reviews across a wide range of industries. The company has recently added popular companies such as Actify Solutions, Vantage Acceptance and Fast Track Financial to its list of covered companies.
ABOUT TOP 10 JUNGLE
Top 10 Reviews
Top 10 Jungle collects reviews and provides rankings for popular categories such as debt consolidation, personal loans, medical alerts, VPN, Anti-Virus Software, Small Business Loans, Pet Insurance, Web hosting, Website building and much, much more.
Best Rated Products
The Best Rated Products Division is where you want to look when you are about to make a purchase. We cover a wide range of products from tablets, laptops, smart home devices, modems and e-Readers to the latest book you just have to read. We are adding categories daily. Our purpose is to make it easy to pick the best product and to be confident in your decision.
We have something for everyone at Top 10 Jungle and best of all — it's free!
For press inquiries or partnership opportunities, please contact Benny Alvarez (benny@top10jungle.com).
Source: Top 10 Jungle
---
Categories: Financing and Student Loans, Mortgages and Loans, Personal and Family Finances
Tags: credit card consolidation, credit card debt, debt consolidation, debt relief, EVEN Financial, MyInstantOffer, Personal Loan Complaints, Personal Loan Reviews, personal loans, top 10 jungle, US Consumer Debt
---