Tompkins County, NY, is Celebrating Their Fourth Annual Giving Day, Giving is Gorges 2018
Press Release
-
updated: May 29, 2018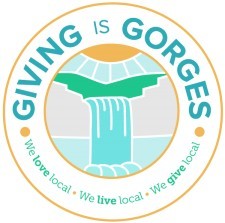 ITHACA, N.Y., May 29, 2018 (Newswire.com) - GiveGab, an Ithaca-based online fundraising platform, with support from The Community Foundation of Tompkins County and the Association of Fundraising Professionals - Finger Lakes Chapter, are excited to be kicking off their fourth annual Giving Day, Giving is Gorges 2018.
This year, Giving is Gorges falls on Ithaca Festival weekend, providing a new opportunity to leverage the excitement of two beloved community events, and spread awareness across Tompkins County, both online and off. The GiveGab team will have a table at this year's Ithaca Festival on South Cayuga Street directly in front of DeWitt Park between Buffalo and Court Streets. There we invite our community members and fellow philanthropists to learn how they can be a part of Giving is Gorges and highlight the amazing organizations participating in the event across the county.
"Giving is Gorges is such a special Giving Day event for the GiveGab team not only because it was our very first of many Giving Days to follow, but because it celebrates the nonprofits in our own backyard and the community we live in and love." - Bridget Cafaro, Customer Success Manager at GiveGab and Leader for Giving is Gorges.
Last year, Giving is Gorges rallied together 1,076 donors who contributed over $106,000 to 112 participating nonprofit organizations in just a single day, with more donations coming in after the day was over. In total, Giving is Gorges has raised over $325,000 from its three annual events, and we are excited to grow these numbers in 2018.
This year, GiveGab is offering over $5,000 in prizes that will go directly to participating local nonprofits to help incentivize their donors to join the fun and give back on June 1. The Association of Fundraising Professionals - Finger Lakes Chapter will also be sponsoring several prizes to provide educational training opportunities to nonprofits across the region. Together we are thrilled to be supporting Tompkins Counties' thriving nonprofit community.  
To learn more about Giving Is Gorges 2018, visit https://www.givingisgorges.org.
About Giving is Gorges: Established in 2015 by a collaborative group, the mission of Giving Is Gorges is to unite community members around important causes and help local organizations multiply their resources. As the results of their three prior Giving Days suggest, they've risen above and beyond the challenge!
About GiveGab: GiveGab is modern, easy-to-use software that cultivates long-term giving relationships between nonprofits and their supporters by providing robust online fundraising, donor management, supporter engagement, Giving Days, and so much more. Visit www.givegab.com for more details.
Source: GiveGab
Share:
---
Categories: Philanthropy
Tags: Everyday Fundraising, Giving Day platform, Giving Days, Nonprofit Fundraising, Nonprofit Giving Platform, Nonprofit Software, Nonprofit Technology, Online Fundraising
---