Todd A. Zuckerbrod PA Stands Above Probate Lawyers in Florida
Press Release
-
updated: Nov 7, 2018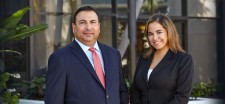 BOCA RATON, Fla., November 7, 2018 (Newswire.com) - ​Todd A. Zuckerbrod has a unique background which sets him apart from most probate lawyers in Florida. He began his career as an enforcement attorney for the New York Stock Exchange, then he joined the Litigation Department of Merrill Lynch. In that capacity and as counsel to Merrill Lynch Trust Company, Mr. Zuckerbrod handled matters involving complex trust and estate issues, often in the millions or tens of millions of dollars. In early 2002, Mr. Zuckerbrod joined the West Palm Beach office of Greenberg Traurig, where most of his time was spent defending Morgan Stanley and Smith Barney in arbitration proceedings. In 2008, Mr. Zuckerbrod became the general counsel of two affiliated brokerage firms and in mid-2010 he established his own private practice. Mr. Zuckerbrod has honed his trust and estate skills over 30 years by successfully resolving issues arising in many different types of trusts and estates.
In 2016, Mr. Zuckerbrod was quoted in an article in Forbes magazine which highlighted the vulnerability of elderly customers of brokerage firms. The case involved an elderly photographer who had donated his wealth to a charitable trust, and thereafter lost hundreds of thousands of dollars at the hands of his broker. This supposedly trusted stockbroker was found to have made numerous unauthorized trades under the guise of having received instructions from the elderly and incompetent grantor. The arbitrators found that the broker knew that the photographer was incompetent and that trade authorizations should have been provided by the person who ran the charity. The Forbes article noted that one of the ways an elderly customer can protect his or her wealth is to have a trusted third party receive a duplicate set of account statements. As a Boca Raton probate lawyer, Mr. Zuckerbrod routinely counsels for the need to have a family member or other professional review the brokerage activity of an elderly client.
Mr. Zuckerbrod is both a hard-nosed litigator and an attorney who values honor and integrity. He represents his clients with passion and understanding. He has built his reputation as someone who can provide solutions for even the most legally or emotionally challenging circumstances. As an experienced Florida estate planning attorney, Mr. Zuckerbrod knows that there are a myriad of reasons why someone would need to contact a probate attorney. Florida. Mr. Zuckerbrod understands that for many, dealing with estate planning, trust and probate issues can be very stressful. One of the most crucial roles a probate attorney plays is to help people navigate their way to a satisfactory resolution.
Contact Palm Beach probate attorney, Todd A. Zuckerbrod today, get a free consultation, and receive professional assistance in estate planning, trust and estate administration and litigation, and much more!
Source: Todd A. Zuckerbrod PA
---
Categories: Legal Services
Tags: Boca Raton Probate Lawyers, Florida Estate Planning Attorney, Palm Beach Probate Attorney, Probate Attorney Florida, Probate Lawyers In Florida
---