Today's New Grads Are Turning to Mobile Apps for Career Guidance
Press Release
•
updated: May 4, 2017
Facing lack of direction, many new grads are trading in traditional career guidance resources for cutting-edge mobile apps for new careers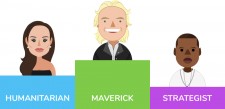 San Francisco, CA, May 4, 2017 (Newswire.com) - Graduation season is just around the corner, and according to The National Center for Education Statistics, an estimated 1,882,000 new grads will flood the job market this year with bachelor's degrees in tow. However, despite being highly-educated, the vast majority of these students find themselves woefully unprepared for the road ahead, with less than half of graduates indicating that their four-year degree helped them develop crucial workplace skills (PEW, 2016).
Given Gen Z's reliance on smartphones, it should come as no surprise that many new grads are forgoing traditional career guidance resources in favor of mobile apps.
"Over the last few years, we've seen a huge shift toward college students and new grads utilizing our app for career guidance, with 47% of users falling into the 18-24 range."

Lisa Chatroop, Associate Director of Brand
"Over the last few years, we've seen a huge shift toward college students and new grads utilizing our app for career guidance, with 47% of users falling into the 18-24 range," says Lisa Chatroop, Associate Director of Brand at Good&Co Labs, Inc., a San Francisco-based startup that provides personality and cultural assessments for people and companies.
Good&Co's goal is to empower job seekers by providing them with meaningful, actionable personality insights focused on career happiness. New grads can utilize the Good&Co app to discover their career strengths and receive custom career advice tailored to their individual personality traits. Unlike traditional personality tests which are typically only capable of offering vague career tips, Good&Co provides users with in-depth, actionable insights.
"The personality insights Good&Co provides are things that traditionally would take most professionals years to discover about themselves. For example, it took me ten years to realize that while I love the idea of working at a highly-competitive marketing agency, such an environment is actually a terrible fit for my personality," explains Chatroop. "Good&Co showed me that in order to be happy and successful at work, I need to find a highly creative position that allows me to work independently. Likewise, I've discovered that I become completely disengaged in highly competitive organizations. If I'd had such insights available to me before starting my career, I could've saved myself years of frustration due to poor culture fit."
In addition to receiving custom career insights, recent graduates can also utilize the free app to check their compatibility with over 2,000 companies, gain scientific company culture insights, and view job openings at high-fit companies. Good&Co is available on iOS, Android and web.
About Good&Co
Good&Co is a self-discovery network for a new generation of professionals looking for more from their careers. It helps job seekers and employees identify their professional archetype, assess a company's fit, and gives them the tools and resources they need to find true happiness in the workplace. Its PPA (Proprietary Psychometric Algorithm) taps into over 20 years of career psychometrics and psychological analysis. Good&Co was founded in 2012 by CEO Samar Birwadker and CTO Subbu Balakrishnan in partnership with Chief Psychometrician Dr. Kerry Schofield. In January 2013, Good&Co participated in TechStars' prestigious three-month accelerator program and went on to launch in April 2013. The company is based in San Francisco, California. www.good.co.
Contact: editorial@good.co
Source: Good&Co
Additional Links