Toasted Bar Announces Release of the Ultimate Summer Collection
Hand-poured soy wax melts and candles that bring the fragrance of summer into the home.
Press Release
-
updated: Apr 30, 2020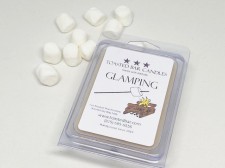 JOLIET, Ill., April 30, 2020 (Newswire.com) - Designer Tara Schumacher, from Toasted Bar, Inc., is announcing her release of the brand-new Ultimate Summer Collection. Each wax melt and candle is created and hand-poured by the designer herself. The Ultimate Summer Collection will be released on May 15, 2020.
The Ultimate Summer Collection will be exclusively sold on Toasted Bar, Inc.'s website, where the limited supply products are scheduled to sell out by the end of the season. The wax melts in this collection are designed to bring back memories of a simpler time. The nostalgic scents of summer will ease anxiety, making every shopper feel as though they were back racing home before the streetlights came on.
Toasted Bar's soy wax melts and candles are hand-poured in small batches to ensure the best quality and most long-lasting fragrance possible. The soy melts come in a variety of colors and fragrances, with a product lineup wide enough to fit everyone's fragrance desires. Some melts are infused with essential oils and odor-eliminating components. Shoppers will enjoy the unique and edgy names given to each soy melt, examples including: Ice Cream Truck, Glamping, and Clean Sheets. The Ultimate Summer Collection includes soy melts and candles, prices ranging from $4-$8.
Tara is ecstatic to welcome her fans, new and old, to the new hand-poured collection they have been waiting for!
Toasted Bar, Inc. was born out of the frustration many of us feel when purchasing wax melts or candles, only to get them home and realize their fragrance is poor and often short-lived. After months of research, Tara found the solution, and also the healthiest option, in soy wax and started creating her own highly scented and non-toxic melts and candles. Toasted Bar's products started gaining notoriety in 2019 amongst the wax melt and candle industry. Adored for their highly scented soy wax melts and candles, Toasted Bar, Inc. provides luxurious and long-lasting fragrance for the home or office, while offering edgy and fun product names to bring a smile to your face.
Follow Toasted Bar, Inc on Facebook, Instagram, & Twitter, for more information and to view the entire lineup of products.
###
For more information about The Ultimate Summer Collection or for an interview, please call Tara Schumacher at (815)685-6556, or email admin@toastedbar.com.
Source: Toasted Bar, Inc.
Share:
---
Categories: Interiors and Decoration
Tags: candle, decoration, home decor, home fragrance, interior design, wax melt
---
Related Files
Additional Links