To Be Honest—They Weren't Being Honest
Press Release
•
Jun 16, 2016
Scientology Volunteer Minister seminars are making an impact in villages in western Kenya.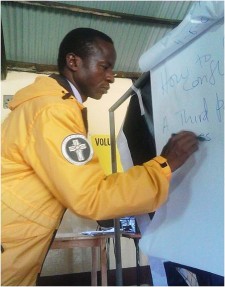 Migori, Kenya, June 16, 2016 (Newswire.com) - The principal of a nearby secondary school contacted a Scientology Volunteer Minister for help. Students were cheating on exams and he and their teachers had been unable to bring this under control. After watching a video about the Volunteer Ministers Honesty & Integrity Course, he insisted the Volunteer Minister stay and conduct a seminar for his students on this technology. After-seminar surveys showed a definite change of heart.
A group of 40 elders from a church in a neighboring village weren't sure what to expect when they scheduled for an Honesty & Integrity seminar. After the presentation, they also recognized the great need for this technology in their community and started making plans to gather a large number of parishioners for the next one.
The Volunteer Minister also helped 75 students with a presentation on Study Technology developed by Scientology Founder L. Ron Hubbard. He arranged for their teachers not to be present so they could feel comfortable opening up about their difficulties and what they were running into in school. He made it clear from the start that they could say anything to him—they wouldn't get into trouble. He went over the purpose of study, that it is not simply for passing an exam. Study is for gaining knowledge to apply to your life—and if they gained that knowledge, passing exams would not be a problem.
The students were surveyed for which subjects they found most difficult. Then he went over the most important barrier to study—going past a word you do not fully understand. He then paired up the students and had them help each other clarify the terms they didn't fully get. It was like magic, they said. Just by clearing up the definitions of words, the subject now made sense. They were amazed to find it wasn't the subjects that they couldn't understand, it was just the words.
For more information, visit the Scientology Volunteer Ministers website.
The Volunteer Ministers program was expressly intended for use by Scientologists and non-Scientologists alike. Anyone of any culture or creed may train as a Volunteer Minister and use these tools to help their families and communities. And all are welcome to do so.
Source: ScientologyNews.org
Related Media