Tittle for Parents App Gives Parents a Tool to Teach Kids Responsible Mobile Device Usage
Press Release
•
updated: Jun 5, 2018
Tittle for Parents provides a solution for screen time, device usage, location management, web tracking and more.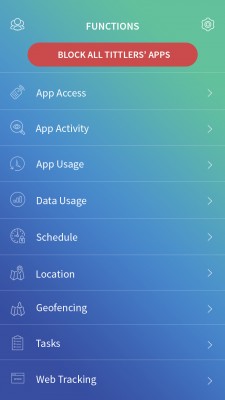 SINGAPORE, June 5, 2018 (Newswire.com) - Parents now have a new and improved mobile device resource available to them. Tittle for Parents is a smart parenting solution that allows parents to both protect their children on mobile devices and teach about safe and appropriate use. Younger children have access to cell phones now more than ever before. Parents enjoy the accessibility of being able to connect with their children more readily, but they also have concerns about safety, the content children are accessing, and excessive screen time. Tittle for Parents addresses all these concerns.
Developed with parents in mind, Tittle for Parents aims to help them seek a balance with mobile device control, protection and discipline while also offering new features like tasks and web tracking. Instead of banning usage completely, Tittle strives to provide parents with a tool they can use to encourage a safe and responsible user experience for their kids.
Tittle for Parents comes with a multitude of features for parents' different needs. By allowing parents to block or enable the Internet and apps like games and social media, parents can limit or change a child's access in his/her mobile device more effectively. Parents can also establish house rules like less screen time and more device-free hours by setting up multiple schedules in the app to limit usage during school, meal times, family time, and bedtime.
The location and geofencing features in the app also enable parents to track and be updated on the children's location. In addition, Tittle for Parents now has a new web tracking feature that gives parents the access to review their child's website history when their child surfs the net with Tittle's custom browser, providing a safeguard from inappropriate content by easily blocking URLs.
Adding on to the myriad of features is the new task feature, which parents can use to create simple tasks for their children, such as specific chores so children gain a sense of responsibility. Parents are encouraged to set goals and rewards to motivate their children. A communication feature enables parents and kids to send each other messages for each task.
The Tittle for Parents app team is dedicated to making the app as user-friendly as possible so set up is easy for all. Parents can pair their device with their child's right in the app, all without having to log into another browser or app. Navigation within the app is a breeze for even non-tech savvy parents.
The latest update is now available in both Google Play Store and App Store. Download now to enjoy the full features for 14 days. Visit tittleforparents.com for more information.
About Tittle for Parents
Developed with parents in mind, Tittle for Parents is a smart parenting app to help parents seek a balance between screen time control, protection and discipline. Instead of banning usage completely, the company strives to encourage a safe and responsible user experience. For more information, visit TittleforParents.com.
Source: Tittle for Parents
Related Media
Tags
Additional Links