'Tis the Season to Create New Holiday Memories and Traditions With the Sugar House Shop
Press Release
•
Jul 18, 2016
Jennifer Snarr of The Sugar House Shop wants to help families create holiday memories with her release of the gorgeous 'Star of Wonder' Nativity Advent Calendar pattern that is sure to become a household tradition every year.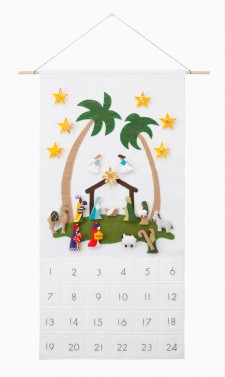 Salt Lake City, Utah, July 18, 2016 (Newswire.com) - ​​​​​​The holiday season is a time to honor family traditions, create new memories, and share the joy of the birth of Jesus Christ with friends and family. What better way to start building the anticipation for this glorious season than with a fresh take on a time-honored tradition: the advent calendar. Right from the beginning of the month all the way through to Christmas, little surprises and lots of fun await as each day reveals something new for the child in all of us. There is no better way to make it even more significant than by creating an advent calendar with your own two hands. The Sugar House Shop has been providing imaginative, interactive, and simple-to-make patterns and tools to create exquisite heirloom-quality advent calendars for homes everywhere since 2014.
Jennifer's love of advent calendars began as a little girl waking up each December morning to her mother's hand-crafted countdown. This cherished memory resurfaced when she helped her grandfather decorate his home for Christmas and found the worn vintage advent calendar her grandmother had sewn. She knew she must continue the tradition and create an advent calendar for her family. However, she could not find a pattern containing modern clean lines and the vintage feel she desired. This led to the creation of The Sugar House Shop which not only offers advent calendar patterns for Christmas, but countdowns for other holidays as well.
The new 'Star of Wonder' Nativity advent calendar is an inspired creation for Jennifer. One of her family's traditions growing up was reading the story of Christ's birth on Christmas Eve. It is something that she and her family looked forward to all season long. The book they read from contained paper ornaments on each page that could be hung on their Christmas tree as each passage was read. This was just one of the bases for her latest advent calendar and ornament collection.
The 'Star of Wonder' Nativity is not just an advent calendar. This calendar pattern has characters that can be stitched into finger puppets so that children can act out the story while parents read the gorgeous frame-able Bible story included with the pattern. Start a new tradition with your family beginning December 1st all the way to Christmas Eve as you build the Nativity scene and read the story of the true meaning of Christmas.
Bring young and old together to celebrate the season with new traditions and building new memories. Make it one of a kind by hand-stitching this heirloom yourself with a little help from The Sugar House Shop. Let the Nativity live in the hearts of children everywhere, teaching them from a young age what the holiday season is really about. Making it entertaining and interactive will be a special treat they look forward to all year long and create family memories that will last for generations to come!
About The Sugar House Shop
The Sugar House Shop is a beautiful pattern shop filled with heirloom-quality patterns using traditional wool felt, sequins, and beads to create countdowns to birthdays, Halloween, and of course, Christmas. These are not your average countdowns, they are priceless interactive heirlooms that will enchant your children for hours as the ornaments are added day by day and can be rearranged to their hearts' content. From classic Christmas trees and Rudolph the Red-Nosed Reindeer to a haunted monster house for Halloween, there is a pattern to delight children of all ages. Fill each calendar's pockets with whimsical ornaments that are handmade and priceless. Now The Sugar House Shop wants to introduce its classically inspired 'Star of Wonder' Nativity advent calendar on July 25, 2016.
It has been a dream come true for Jennifer to share her patterns with young families and to revive the old tradition of the advent calendar for a new generation. When things are handmade there is certainly extra-special meaning to them. Capture that sense of wonder and glee this holiday season for your family.
Contact Info:
To see the lovely and inspiring 'Star of Wonder' Nativity advent calendar head over to http://www.sugarhouseshop.etsy.com on July 25, 2016 for the official launch.
For the latest up to date news and sneak peeks follow The Sugar House Shop on Instagram http://www.instagram.com/thesugarhouseshop/
Get a glimpse of what it is like to create a calendar with a pattern from The Sugar House Shop by visiting https://youtu.be/nnBR2pdOqw4
Receive discounts, latest product announcements, and valuable stitch tips by subscribing at http://bit.ly/sugarpattern
You can contact Jennifer at jennifer@thesugarhouseshop.com
Source: The Sugar House Shop
Related Media