Tips for National Preparedness Month With Bonnie Schneider, Weather Expert and Author of 'Extreme Weather'
Press Release
•
updated: Sep 25, 2018
Bonnie Shares an Important Message with TipsOnTV as Severe Weather is Becoming More Frequent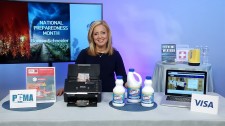 ATLANTA, September 25, 2018 (Newswire.com) - September is National Preparedness Month, sponsored by the Federal Emergency Preparedness Agency, and it comes at a time when the incidence of extreme weather events seems to be growing. As a network television meteorologist, Bonnie Schneider has been predicting storms and following weather patterns for many years. Her knowledge of the weather and her concerns for safety inspired her to write the informative and fascinating book EXTREME WEATHER: A Guide to Surviving Flash Floods, Hurricanes, Heat Waves, Snowstorms, Tsunamis and Other Natural Disasters. It is a book with timely information to share with audiences. Find out why this meteorologist has dedicated her career to preparing people to survive extreme weather.
ONE OF THE FIRST THINGS TO DO TO BE PREPARED FOR EMERGENCIES
During severe weather, power outages can be prevalent and many people will be using portable generators. The Portable Generator Manufacturers' Association has some timely tips to ensure safe, proper use of portable generators. First, to avoid the dangers of invisible, odorless carbon monoxide buildup, always "Take It Outside," which means never running generators indoors or in garages, basements, crawl spaces, breezeways, sheds or other partially enclosed spaces. Always take portable generators outside to keep the family safe from carbon monoxide and prepare for hurricane season with important safety information available at www.takeyourgeneratoroutside.com. New generator models that comply with the ANSI/PGMA G300 Standard provide enhanced safety through carbon monoxide sensors and shutdown features that help protect against carbon monoxide buildup.
SOMETHING TO DO TO BE READY FOR EXTREME WEATHER
One of the most important things to do to be prepared is to preserve important documents and those priceless pictures that cannot be replaced. One helpful device is the new Epson FastFoto FF-680W Wireless High-Speed Photo and Document Scanning System. It preserves priceless memories. This Second-Generation FastFoto is the world's fastest personal photo scanner and can preserve valuable photos and documents that could be destroyed in a storm. Using the intuitive software, users can easily store all their priceless pictures and important documents. In addition, easily edit documents and save time with automatic file naming, plus powerful productivity tools. With built-in Nuance® OmniPage Optical Character Recognition (OCR), users can create searchable PDFs, plus editable Word and Excel® files. For more information, visit www.epson.com.
ESSENTIAL SUPPLIES TO KEEP ON HAND IN PREPARATION FOR SEVERE WEATHER
One of the most important supplies to have on hand is household liquid bleach like Clorox® Regular Bleach₂ with CLOROMAX®. Clorox is a vital tool to have in disaster preparedness kits because bleach has many uses in the aftermath of water-based natural disasters. Even the American Red Cross recommends bleach in their "Survival Kit Supplies." It can help treat drinking water that may be contaminated, kill bacteria such as E. Coli in places where floodwater was present, clean up mold and mildew inside and outside the home, and prevent mosquito breeding areas. From homes to community spaces, Clorox® Regular Bleach₂ with CLOROMAX safeguards health and is a great tool to protect families rebuilding after a disaster strikes. For more information, visit www.clorox.com.
FINAL EXTREME WEATHER SAFETY TIP
Extreme weather events also have a huge impact on small businesses. According to FEMA, nearly 40 percent of small businesses in disaster-affected areas never reopen. That is why Visa has launched The Visa Back to Business Project to help consumers connect with small businesses impacted by natural disasters by supporting them in getting back on their feet again. They are identified by Small Business Association guidelines. This campaign was inspired by the stories like that of the Three Brothers Bakery in Houston, Texas, which shut down when Hurricane Harvey struck due to devastating property losses. Despite reopening quickly following Harvey, the decline in revenue was felt among many small business owners in the impacted community. The Visa Back to Business Project uses Visa transaction data to help identify small businesses that have recently processed a Visa transaction following a natural disaster so that consumers can help support such small businesses. The goal is to drive commerce and ultimately helping to rebuild impacted communities. The Visa Back to Business Project was designed to help small businesses, like Three Brothers Bakery, and their communities that may find themselves similarly impacted in the future. To find small businesses impacted by a natural disaster, visit www.visa.com/backtobusiness to help support following local small business after a natural disaster.
Contact: tipsontv@gmail.com
Source: TipsOnTV
Related Media